About us...
UCCA
3368 Governor Drive #121
San Diego, CA 92122
www.ucca-news.org
en.wikipedia.org/wiki/University_City_Community_Association
News...
UCCA to elect officers at November meeting, see news.
Who we are?...
The UCCA provides and promotes civic, cultural, social, educational, and recreational opportunities for residents and is a voice of the community.
What we do?...
It's no coincidence there's always something going
on in University City! The UCCA is the home of the community's leaders and the entry point for its future leaders.
The Standley Park Recreation Center and your community association UCCA, working with skeleton crews, provide University City with more activities than any other community in the county.
UCCA sponsors or co-sponsors the community clean-up in May, the 4th of July Celebration in July, the Sunday Summer concerts in July-August, the banana split social in August and the Chrismas Tree Lighting in December, all taking place at Standley Park and Standley Recreation Center.
UCCA invite all our neighbors to enjoy these events
and to consider involving themselves in some way to
the planning or execution of similar functions.

We hope you enjoy the street banners on Governor Dr., Regents Rd, and Genesee Av.. Thanks to the generosity of the International City Bank President Jane Netherton who gave $10,000.00 to the community and $1,000.00 from the U.C. Recreation Council, plus a matching grant of $1,000.00, the banners on Governor Drive promote our theme, "University City,... more than a neighborhood."

UCCA also sponsors or co-sponsors ongoing projects, such as U.C. Beautification and Adopt-A-Highway on Governor Drive.
Because communication is critical to the community, the UCCA launched in 2002 a monthly newsletter, delivered neighbor-to-neighbor, thus building community, fostering communication and providing information on community topics and issues of interest.
For the same reason, the UCCA has launched the present website www.ucca-news.org in May 2007, completely rebuilt in June 2008. Come visit us again soon, there is always something new and... may you find that particular community information you have been looking for!
The UCCA has arranged many candidate and community forums held at our local schools. Recent UCCA sponsored forums included Council Member and City Attorney elections and one for emergency preparedness after the October fires of 2007.
The UCCA provides visitors an initial contact point including government agencies wishing to hold an event such as the popular bike safety and free helmet give-a-way held in March 2007.
Finally, the UCCA does provide small donations to various non-profit events and activities throughout the year. These range from Grad night celebrations at UC High School, Middle School Marching Band fund, local eagle scout projects to free ice cream for children at the summer concerts.
Where and when we meet?...
The University City Community Association meets at the University City library on Governor Drive every second Wednesday of the month from 6:00 p.m. to 7:30 p.m.
The monthly advancements of the ongoing UCCA projects, reported by the committee chairman or chairwoman, are discussed by the board. Community personalities, from the Mayor's office or the San Diego Police for instance, often take part in these meetings. Feel free to come find out what's going on in the neighborhood!
You may contact the UCCA president in the Contact us page or send an e-mail to president@ucca-news.org with your thoughts or concerns.
UCCA at the annual 4th of July Celebration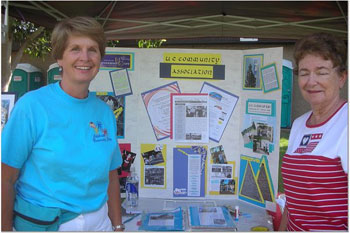 Get one of those licence plates, saying... Yes, that's it: University City... more than a neighborhood!...
A banner on Governor Dr.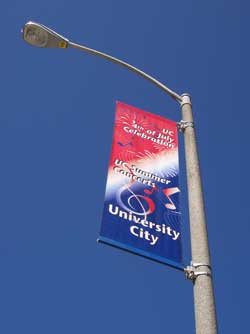 Thank you for your continuing support.