University City monthly highlights...
UC Beautification
University City Community Association's general meeting on May 13th focused on beautification. A very small group showed up to share concerns and solutions, six to be exact. However, the six provided solutions as well as complaints.
UCCA salutes Faye Duggan, Barbara Gellman, Charles Kohlenberg, Marcia Sarnow, Bob Ullmann, and Arthur Wolfkind for their input in the critical discussion of making U.C. a more attractive community.
In spite of efforts on the part of the UCCA board to improve the community through community clean ups, constant calls to the City to keep the weeds in control, and even complaints to Cal Trans for the deplorable condition of exits on route 52, especially the eastern exit at Regents Road, the results have been distressing at times. Recently UCCA sent a series of photos to Councilwoman Lightner's office that showed the extent of the weeds growing across from UCHS, on Regents Road, and in various areas. We questioned why gas taxes support some medians but not others. For example, the Governor medians in front of Carl's Junior and at the Stresemann cross street pay Aztec gardeners to keep the medians free of weeds. Regents Road north of Governor is a gas tax median, while Regents south of Governor isn't.
Thanks to the hard work of locals who joined the UCCA community clean up on May 16th, our town looks a little better. We are working closely with Jesse Mays, Sherri Lightner's representative for U.C., to learn who is responsible for what area. Genesee north of Governor on the west side is the responsibility of homeowners high above on Fisk Street. San Diego Water Company is supposed to keep the weeds cut back and the sidewalk clear on Governor east of McElroy Field. La Jolla Park East and La Jolla Park West Apartments should be maintaining the medians on Genesee north of Governor. (As an aside, why couldn't they be named U.C. Park apartments?)
Code compliance violations abound in South University City. Almost every neighborhood has a horror story to share, according to the folks who attended the UCCA meeting. Are these a result of rentals? Are senior citizens unable to care for their property? Is a couch on the front lawn a violation or a lifestyle choice? UCCA does need a plan that involves the community coming together to figure out ways to solve these problems. A maintenance assessment district? A voluntary one time fee to plant medians, put up gateway signs, add trees and flowers? What's your suggestion?
Weeds on the medians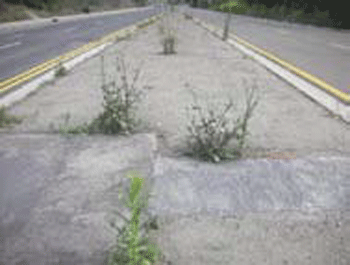 President's Report
Andy Freeburn, President
University City Community Association
Happy New Year neighbors,

As the world braces for an economically tough 2009, the University City Community Association (UCCA) is conducting our annual membership drive and asking for your contribution to keep its activities going for another year.

As your community association works to improve the quality of life in U.C. it usually allies itself with other groups in order to provide a specific event and often takes a second billing.

As there is confusion of what the UCCA provides, I am grateful to explain at this time so that my neighbors understand the tremendous impact our association has on University City.

First of all, the UCCA is a non-government sponsored but federally recognized non-profit organization with a charter and by-laws. It is made up of and funded solely by the residents of University City. The board members are all volunteers and receive no compensation for either their time or expenses. We must submit audits annually to continue our status.

Unlike a condominium association, the UCCA does not make planning, zoning, or fiscal decisions. However, as a representative group, we are able to provide a voice to the UC planning group, City Council Representatives and other government agencies.

The most recognizable contribution of the UCCA is the editing, publishing, and distribution of 6000 newsletters every month. By providing a regular and systematic product to convey community pertinent information, I believe the newsletter is the most valuable contribution of the UCCA. The editor, advertising coordinator, and the assembly/distribution crew are all volunteers. There is no staff and the board members write most articles, although we're always grateful for submissions from residents. Over 80 volunteers provide the distribution to your doorstep. Without the newsletter, many of the UCCA events would not be successfully attended.

The UCCA maintains a website at www.ucca-news.org which is updated monthly and on an as-needed bases by one individual. The website contains reliable information about what UCCA does for the community (monthly newsletter, Christmas tree lighting, 4th of July celebration, Summer concerts, etc.) andthe neighborhood of University City (schools, libraries, recreation centers, parks, pool, etc.). The site also features a community calendar with current news and events, plus classifieds that can be both updated by the site visitors on line. The site proved invaluable  community resource when unforeseen events strike University City, such the F- 18 crash in December or the library closure protest in November 2008.
Every May, the UCCA coordinates our annual community clean up. As there is no assessment district, there is no regular sidewalk or medium weed abatement in University City. Every year the UCCA removes nearly 200 bags of trash and vegetation from Governor Drive, Genesee, and Regents Road. Your donation to UCCA for this effort is much less than the City would tax you for a less complete job.

Additionally, during the one day clean up, the UCCA provides large trash receptacles and electronics recycling at no charge so that residents may conveniently dispose of large or difficult items. A trip to the dump would easily cost as much as your donation to UCCA.

Perhaps the most noticeable contributions are the street banners lining our three main thoroughfares. They are changed seasonally and all costs of production, installation, and alternation, are borne by the UCCA.

The UCCA arranges the annual Christmas tree lighting at the recreation center, which includes the decorating of the recreation center complete with lights and tree. UCCA volunteers arrange all entertainment, refreshments, donations, and set up. This free family night out alone is easily worth the minimum donation to your UCCA.

The UCCA has arranged many candidate and community forums held at our local schools. Recent UCCA sponsored forums included council member and City Attorney elections and one for emergency preparedness after the October fires of 2007

The Memorial Day flags decorating Governor Drive every year are purchased by the UCCA and placed by volunteers, as is the September 11 memorial at Standley Park.

Mostly ubiquitous contribution of the UCCA is the involvement of its board members in all other aspects of the community. The UCCA is the home of the community's leaders and the entry point for its future leaders. The UCCA provides visitors an initial contact point including government agencies wishing to hold an event such as the popular bike safety and free helmet give-a-way held in March 2007.

Perhaps the biggest clarification necessary is regarding UC Celebration, which is a function of the recreation council. However, it is not organized or planned by our wonderful recreation staff. Virtually all UCCA board members are on the Celebration planning committee or contribute a majority of time on the day of the event. There is no doubt that our Fourth of July festival would not have happened for the last five years without the UCCA's involvement.

Likewise, the Summer Concerts are a function of the recreation council but mostly organized and run by UCCA volunteers.

Finally, the UCCA does provide small donations to various non-profit events and activities throughout the year. These range from Grad night celebrations at UC High School, Middle School Marching Band fund, local eagle scout projects to free ice cream for children at the summer concerts.

When you realize twelve or so active board members provide the above services, you understand why your contribution not only supports our costs but also encourages UCCA to continue our mission.

Thank you for supporting University City.
Sarah Anderson almost an Aztec grad
Sarah Anderson, our Center Director at Standley
Park, is popular with her staff and patrons of the park.
She's a take charge lady with a calm demeanor that has
been tested over the years with the roller coaster ride
of Park and Rec plans to close rec centers, eliminate
staff, and reduce hours because of City budget woes,
especially this moment. Still, Sarah Anderson has kept
Standley Park afloat with the help of her recreation
council and staff. Standley has often been compared
to a community town hall, a place where many U.C.
families meet and greet.

Besides working fulltime for Park and Rec, Sarah has been going to San Diego State for her degree in Applied Arts and Sciences with a major in Hospitality and Tourism Management: Meetings and Events Operation Management. Imagine writing all that on a diploma! Sarah's classes end officially on December 18th and grades are not submitted until the end of the year.
"I am very excited to be completing my studies at SDSU. After graduation when I officially "walk" at Commencement on May 23rd, 2009, my plans are to stay with the City of San Diego and explore options in the event field. It is a difficult time to try to get another equivalent paying job in the field with the economy in the condition it is."

As for the status of Standley Park and Recreation
Center, Standley is currently slated to have the Assistant Center Director position cut and also have a reduction of 8 operating hours per week. "We have seen many difficult times at this center, and we will strive to continue providing the best service and programs possible given our resources. The Recreation Council has always been very supportive in times of need, allowing the facility to run programs before and after operating hours, providing funds for additional staffing hours for facility operations and events," Sarah said.
What we all say to Sarah is: Congratulations on getting your B.S. degree and all you do for our community. Now can you help out the Aztec football team?
Neighborhood party disturbances
Community Assisted Party Program (CAPP) coordinates neighborhood party disturbances with residents calls to the police department as well as officer responses. Once a call is made regarding an unruly or noisy party, the CAPP begins. "First Response Notices are tracked by computer." Further calls may lead to the party hosts being charged for police response costs. If a party location is CAPPED; the designation lasts 1 year and there is zero tolerance for future disruptive parties.
Therefore, don't lose sleep because of continued party disturbance. Call SDPD at 619 531 2000 or 858 484 3154 and speak up. For more detailed coverage of CAPP including home owner responsibilities and fines, contact the SDPD Northern Division CAPP coordinator at 858 552, 1717.
University City's newest bridge
UC Bridge Makes Vital Connection University City's newest bridge was dedicated on Saturday, October 18, in Marian Bear Memorial Park about a quarter mile from the end of Bothe Avenue.
The wooden bridge was built due to the efforts of Eagle Scout candidate Mark Traganza and fellow scouts from troop 271, especially Dean Curry and David Traganza. The bridge allows hikers and bicyclists to easily cross over a brow ditch from Rose Canyon to San Clemente Canyon. Mark stated that "before the concrete footings could be poured, it was necessary to remove an estimated 15 tons of earth and foliage." The natural debris had accumulated in the brow ditch over several years. Two dozen scouts and adult leaders removed the debris. Mark consulted with his father, Bill Traganza, who is an engineer by profession and Troop 271 Scout Master, to determine design safe load limits. Although built for nonmotor vehicle use, the bridge was engineered to accommodate an ATV plus an additional 250 pounds. The bridge also has safety railings and concrete ramping to make a smooth transition from the trail to the bridge.
To acquire the more than $1000 estimated for materials required to build the bridge, Mark organized a fundraising dinner and placed a sign at the site of construction soliciting donations. Mark received quite a few checks for the cause by residents who used the trail and would utilize the coming bridge. While Mark and his crew were working, pedestrians would provide immediate cash donations. One dog walker, realizing the future benefit, immediately donated $50. Despite the generosity, Mark was still short $150, which came at Mark's expense.
Janice Lavallee, Park Ranger, who cut the dedication ribbon alongside Mark, commented that the bridge was definitely one of the most substantial in the park network. Many trail bridges, crossing ravines, are no more than a glorified ladder with extra planks laid across the obstacle. Having footings, hand rails, and ramps will allow all visitors to be able to utilize the bridge with relative ease. I encourage all readers to take the short walk from the end of Bothe Avenue to not only appreciate Mark's Eagle Scout project but to enjoy the beautiful surrounding area that makes University City a wonderful place to live.
Kiril Kulish stars in Billy Elliot
UC's Kiril Kulish Stars in Billy Elliot Kiril ("Kevin") Kulish, 14, of University City is starring in Billy Elliot The Musical, which will open on Broadway November 13.
This awarding winning production, with music by Elton John, is based on the hit movie. Kiril shares the leading role of Billy Elliot with two other boys. The preview shows in New York have been selling out. Billy Elliot is an inspiring story about a working class boy who discovers his special talent and love for ballet. Against his father's wish, he pursues his dream of becoming a dancer.
Kiril also has a special talent and love for dance. He started his formal ballet training at the age of 6. He has trained primarily with former Bolshoi dancer Maxim Tchernychev and native San Diego ballerina Sylvia Poolos Tchernycheva at San Diego Academy of Ballet in Kearny Mesa. Kiril's hard work, strong drive and natural talent have resulted in numerous awards and achievements. For 4 years in a row, Kiril won the top prize in his age category at the international Youth America Grand Prix ballet competition. He is also a ballroom dance champion and an accomplished concert pianist.
We wish Kiril the best in his Billy Elliot role on Broadway.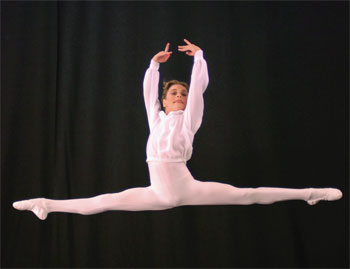 Emergency notification applications
The City of San Diego and the County of San Diego both utilized emergency notification applications (Reverse 911® and Alert San Diego) to assist in the safe evacuation of over 515,000 residents during the October 2007 fires. The City has added Alert San Diego to its emergency notification system, enhancing its capability to rapidly get information to residents and businesses in an affected area in the event of an emergency. Land lines are already in the telephone data base for each service. However, if you wish to receive notification via your cell phone or Voice over IP phone, you must register those numbers. The Reverse 911® application does not automatically identify TTY/ TDD devices. Therefore, users are asked to register their TTY/TDD phone numbers in the Reverse 911® application.
It's easy to register at the City's website at www.sandiego. gov/ohs/emergencynotification/ index.shtml. Click on the link for each service. Because of privacy limitations, information is not shared between the Reverse 911® and Alert San Diego services, you must thus register separately for each service.
Preventing Property Theft
Preventing Property Theft from a Vehicle Standley Park and Recreation Center has experienced an increase of car break-ins and property theft over the past year. All of the break-ins have occurred when the parking lot is very busy. Assistance from park users is needed to help catch the thieves.
If you see a break-in taking place, call 911 and report to recreation center office. If you have seen any suspicious activity at the park, please call the non-emergency police line at 619-531-2000 and report to the recreation center office. Below are tips from the San Diego Police Department on preventing property theft from your vehicle:
• Never leave any valuables in plain sight. Remove cellular phones, audio systems, computers, packages, sports equipment, cameras, purses, firearms, etc.
• Never lock valuables in the trunk after you park.
• Thieves may be watching. Take your valuables with you or put them in the trunk before you park.
• Take the removable face of your CD player with you even if you are going to be gone for a few minutes.
• Lock truck-bed toolboxes.
• Install locking devices on batteries, wheels, audio equipment, etc.
• Make several slices through your license plate registration sticker after it has been placed on the plate. If the plate or sticker is stolen, call the DMV (Department of Motor Vehicles) immediately to report the loss and get replacements.
Standley Park & Recreation Center October activities


Fall Class Session Begins: Saturday, September 27 Class for Youth, Adults, and Seniors include: Aikido, Yoga, Stressbusters, Tai Chi, Gymnastics, Wednesday After School Program, Kidz Art, Kids Night Out, Junior Sports, Basketball Skills, Volleyball Skills, Soccer, Senior Card Club and our newest program, Guitar lessons.
Fall and Winter camp will be held during school breaks. Detailed information is available in the Fall Program.
Halloween Carnival will be Friday, October 24, 2008, 5:00-8:00pm. Activities include carnival games, a jumper, crafts, coloring contest, and a costume contest (see program for age bracket times.) See the flyer or call (858) 552 1652 for more information.
Sidewalks
There are over 5,000 miles of sidewalk in the City of San Diego. The City is responsible for the maintenance of sidewalk damage caused by vehicle accidents, water main breaks and natural subsidence. Normal wear and tear or age damage is the responsibility of the homeowner, who can take advantage of the City's 50/50 Cost Sharing Program to have repairs done. With an ever-increasing sidewalk repair backlog, some delay is to be expected.
If your sidewalk is raised or cracked because of a City owned tree, our Urban Forestry section will make the repairs at the request of the property owner. 50/50 Cost Sharing Program Property owners are responsible for the repair or replacement of their sidewalk in cases of deterioration due to old age, privately owned tree roots, heavy vehicle traffic or drainage from private property. However, the City will split the cost with the property owner as part of the 50/50 Cost Sharing Program. In this program, the City pays for half of the replacement cost and the property owner pays the other half. The fee is based on a per square foot cost and is the same for all neighborhoods of the City.
To qualify for the 50/50 cost-sharing program, the area to be repaired must be at least 75 square feet of old and deteriorated sidewalk not including the section of sidewalk directly behind the driveway entrance. After a field assessment is made, qualified property owners receive a cost share proposal by mail to sign and return. A request for payment is then sent 90 days before construction is expected to commence. The waiting period for sidewalk replacement after the field assessment is approximately 240 days. This is a great way for the property owner to cut their costs for sidewalk replacement.
The picture taking lady
Hey, you may have seen her out there taking pictures? Yelled at her, honked at her, smiled at her or... simply wondered why someone would walk around and take pictures of a mall or a church?
It looks suspicious, at least, doesn't it? Well, somewhat weird, for sure: who would miss the green light to turn left while taking a pictures of a store, step on the middle line on Governor Dr. with cars speeding up both sides to put things in perspective, almost lay down on the road to snap that banner floating up in the air, half hide in bushes to get that bird of paradise flower or pine branch on the first plan, bite the dust while walking in a canyon, come back a couple of hours later to get a better light, take a picture of a daycare when children are present but far away, get sun burned while walking around looking for a mystery or a best picture... The list goes long, indeed.
Well, be reassured: it is all about art and… angle, and… light… and background. It takes, professional photographers say, 10 shots for a good one! Modern marvels of digital photography help out greatly to come up with that one quickly and cheaply.
So, where do all those good shots go? Yes, you got it – on the UCCA Internet site at www. ucca-news.org! There are about 150 pictures, for all to see and marvel! Lucky us.
That's her way to say thank you to U.C., you see?
The pictures taking lady ;-)))