University City canyons...
Marian Bear Canyon is off Clairemont Mesa Boulevard and the state 52. Rose Canyon is on Genesee Avenue, in front of U.C. High school.
Enjoy a hike in the canyons but watch out for poisonous oak and wild life (snakes and coyotes, in particular).
Please, check out the community sites page to learn more about the Friends of the Rose Canyon association.
Some history...
Marian R. Bear park in the San Clemente Canyon between University City and Clairemont has been dedicated on July 31, 1979, by the City Council of the City of San Diegoon the behalf of the people of this city who are indepted to her for her energetic and unselfish efforts as a planner, naturalist and conservationist and her lasting comtributions toward the preservation of open spaces for futures generations.
Marian Bear Park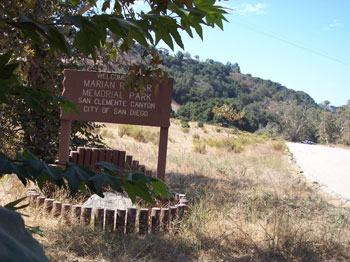 Rose Canyon