University City pictures...
Please, enjoy these U.C. pictures!
You will, certainly, easily recognize these U.C. landmarks and, may be, one day,... yourself, your car, your house or your street on one of those pictures!
Mystery picture contest
Enter our mystery picture contest!
Can you tell where the picture in the header above has been taken? Or do you recognize this place here below?
Here is a clue - both pictures have been taken this spring somewhere in University City. Find out and get a free University City license plate or T-shirt!
To send your answers, please, use the form in the Contact us page or sent an e-mail to webmaster@ucca-news.org. Your name will be published with your authorization.
University City, the best kept secret in San Diego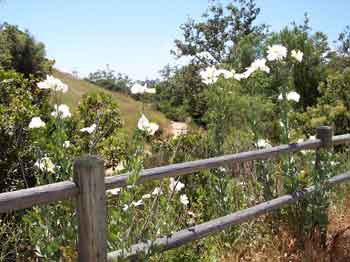 Best U.C. pictures
Please, have a look at our best U.C. pictures for now.
Share your pictures of University City!
Do you have a nice picture of University City? Do you have a better picture of U.C. schools, parks, canyons, businesses,... appearing here? One of those which do not appear yet? Or, maybe, a mystery picture for our contest?
Please, share your pictures of University City! Sent them to webmaster@ucca-news.org, we will be glad to publish it.
Public places only, please. In fact, your backyard would be difficult to recognize!