University City e
vents...
To send us your events, please, use the form in the Contact us page or send an e-mail to editor@....
For past events, please, see the Archives page. For more, please, review the newsletters archive at the Newsletter page.
Please, check out the calender on the left for all current events!
To view our calendar, hit the View my Calendar button.
To add your own event online, hit the View my Calendar button, then click on the date of your event. To update your news, contact the webmaster.
To resume browsing the UCCA site after after you have viewed or edited the calendar, please, hit the link Return to home page in the upper right of the calendar or the Go back one page button (the left arrow) of your browser.
Disposal of whole tires
Disposal of whole tires at Miramar Landfill is prohibited by state law and San Diego Municipal Code. (Shredded or sliced tires are accepted.)
To cut down on the illegal dumping of tires, the City is offering free tire recycling at the Waste Tire Amnesty recycling event Saturday, June 20th at Mira Mesa High School, 10510 Reagan Rd. Residents can dispose of up to 20 passenger and pick up truck tires at the event. No rims, rimmed tires, semi-truck or tractor tires will be accepted.
State law requires a permit to transport more than 9 tires. Call Development Services (619) 533-3699 at least one week before the event to obtain a permit.
Volunteers party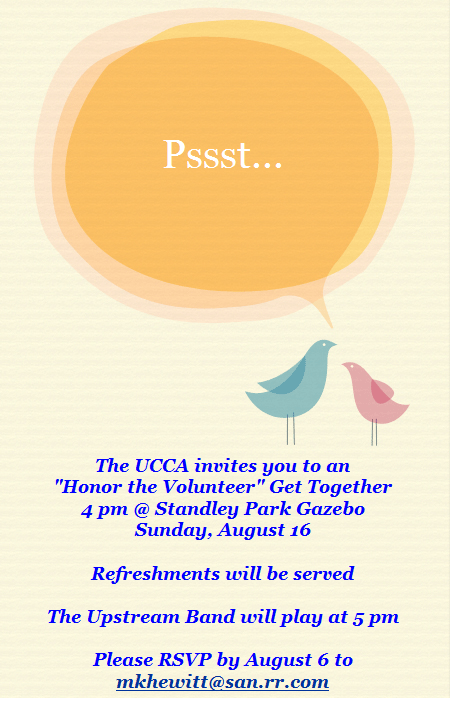 The Marines are landing!
The Marines are landing! Green Concerts Under Blue Skies at Standley Park is kicking off an early start on June 28th with the fabulous Nitro Express.
There will be a delayed start ONLY for this concert: 5:30 p.m. Nitro Express changed dates to accommodate the Marine Band San Diego that will close out the concert series at Standley Park on Sunday, August 30th. (As you may know, having the Marine Band San Diego is a real coup! Many thanks to John Hargrove for using his Marine background with the Marine generals.)
UC Community clean-up
This year's community clean up was extremely successful with all the work performed by about two dozen of our dedicated neighbors.
Vegetation was cut back from the San Clemente canyon access off Syracuse by the Finburgh family, Simon, Linda, Emma, and Julian, along with Marge Lorang. The overgrown weeds east of University Garden Park (aka Dino Park) were cut down by Noi Lani and Charley Deem, Bill and John Mitchell, Charles and Alex Kohlenberg, and John Hargrave. Unruly weeds on Regents Road and Pennant Way were tackled by Richard and Debbie Betzenderfer, Sandy Lippe, Mary Kay Hewitt, Hugh Pates, Barbara Henshaw, and a contingency from council women, Sherri Lightner's office led by Jesse Mays.
Mountains of pine needles were removed on the Genesee Median by the High School by Tutu Andersen, Ginger Taylor, Pat Stickels, and UCHS Seniors Page and Kirsten. Mike Lamp and Andy Freeburn made the rounds to pick up almost 200 bags of debris which was accumulated by the volunteers.
Bob Ullmann manned the UCCA information booth, allows those residents who have not yet joined UCCA, the opportunity to sign up.
Almost 26 tons of refuse were collected by the City of San Diego's Environmental Services department during five hours of operation. There was a non-stop caravan of vehicles loaded up from 8:00 a.m. until the final call at 1:00 p.m., saving residents time and dump fees.
The UCCA's annual clean up is another value which your community association organizes at no cost to the community. If you haven't yet become a member of UCCA, please consider a donation at this time.
Luau dinner
Our Mother of Confidence Catholic Church, the Youth Minister Program, is having a LUAU DINNER fundraiser and Talent show this Sunday, June 7, following the 5:30pm Mass. The buffet dinner is donated by The French Gourmet.
Please, click on the link and have a look at the flyer.
BATTLE OF THE BANDS SCHOOL FUNDRAISER!
UCHS senior Chris Cawdrey fights back with a way to help with the school budget crisis and the attempts to axe money from the music departments.  He has spent the past several months organizing a multi school Battle of the Bands which will held in our own UCHS gym on Friday, May 15, 2009. 
The details are below and a flyer is attached.
Importantly, all of the funds raised will be DONATED to the participating schools' music departments. Even Standley Middle School gets in on the action as one of the UC High bands will represent Standley as all of its members are graduates of its music program.

So let's all turn out on Friday, May 15, 2009 (6pm-9pm) for a couple hours of good old high school rock and roll featuring bands from UC, West Hills, San Pasqual and Carlsbad.  The winning band will receive a money prize,
bragging rights and the largest percentage of the revenues for its school's music program. Selection of the winning band will be determined by audience participation - clapping and cheering. So we need all students and parents alike to turn out, raise some money and cheer on their favorite band.

Our UC Bands are:

No Brakes (representing Standley Middle School), featuring Chris Cawdrey, Jeff Campbell, Chris Munoz, Tyler Cranford and Tyler Francavilla.

Magnanimous (representing University City High School)  featuring Connor Creagh, Jesse Wingfield, Ryan Medlock and Justin Brostrum.

The other Bands are: Light of Doom (representing San Pasqual), One Way Flight (representing Carlsbad) & For 25 (representing West Hills).
See the the event organizer Chris Cawdrey during interview with KUSI channel 9 reporter, Mike Castellucci, at http://www.kusi.com/news/goodmorning.

No Brakes band members:  from left to right,
UCHS seniors - Tyler Francavilla, Chris Munoz, Chris Cawdrey, Tyler Cranford (seated at drums) and Jeff Campbell.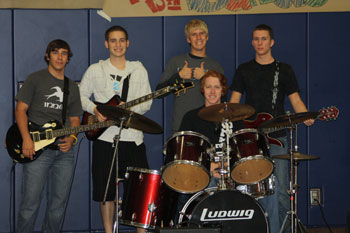 University City Cub Scout Pack 11 Celebrates 79 years of Scouting

On Monday, February 23, UC's only Cub Scout Pack celebrated 79 years of Cub Scouting with its annual Blue & Gold banquet.

Pack 11, sponsored by First Baptist Church of San Diego on Governor Dr., welcomed over 200 Cub Scouts and family members.
After an invocation by the First Baptist Church's representative Ben Cagle, the district executive Trent McClure presented the Friends of Scouting program.
Following a tasty dinner and cake, Garrett Woodworth, Grant Ruthenberg, John Nover, Spencer Pilkington, and Kevin Pickering were given the Heavy Shoulder Award for having completed all 20 Webelos activities.
This year, the banquet also recognized 13 local Cub Scouts who have earned the highest award in Cub Scouting, the Arrow of Light: Jake Gunberg, Patrick Miller, Jacob Muniz, John Nover, Sean Quezada, Nathaniel Pick, Kevin Pickering, Spencer Pilkington, Grant Ruthenberg, Allen Siegler, Adam Timms, Garrett Woodworth, and Billy Wright. They were led by den leaders Joe Quezada and Heidi Woodworth and Cubmasters Mark Woodworth and Daniel Pick for four and a half years on the trail of Cub Scouting. A short but emotional Webelos den leader recognition, followed by the Bridging ceremony, celebrated the symbolic crossing from Cub to Boy Scouts for these boys.  Boy Scout troops 11, 233 and 271 will be receiving a fine group of young men.
The pack leaders Mark Woodworth and Daniel Pick will be leaving the pack along with their boys, but will always cherish their time with the pack. The pack will miss them!
The banquet closed on the installation of the new Cubmaster Robert Feinstein of Cub Scout Pack 11.
New dens will be forming in May.  For information, contact Mary Ricci (858) 483-6607.
13 local Cub Scouts have earned the highest award in Cub Scouting, the Arrow of Light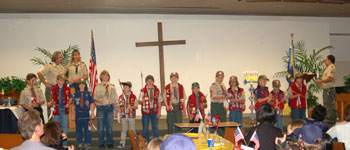 San Diego Unified School District Superintendent Dr. Terry Grier in an open discussion with the League of Women Voters of San Diego

    San Diego Unified School District Superintendent Dr. Terry Grier will answer questions in an open discussion with the League of Women Voters of San Diego (LWVSD) and with members of the community, during "Lunch With League," a give-and-take forum moderated by LWVSD member Dr. Richard Schere, psychologist.
The program will be held Monday, February 23, at Tom Ham's Lighthouse Restaurant on Harbor Island, with buffet at 11:30 am followed by a question-answer session until 1:30 pm. Reservations must be made in advance, $25 for League members and $30 for non-members.
LWVSD Co-president, Norma Damashek, says, "We need to deal with the reality of financial pressures and how we're going to meet the needs of our students in this time of layoffs and economic uncertainty," adding, "What should be the highest priority to maintain an adequate education for our children?"
Dr. Schere will open the forum with Superintendent Grier by reading Leaguers' questions based on videotaped interviews with three San Diego School District educators.
The forum will then extend participation to those in the audience who have further questions.
To reach Tom Ham's restaurant, take Harbor Dr. west to the airport, turn left at Harbor Island Dr, proceed two short blocks and turn right past hotels and marinas to the end of the island. Parking is free. Call (858) 483 8696 for further information.
The Legacy of Belonging
February 1st, 9:15am, Good Samaritan Episcopal Church in University  City starts a new Sunday morning series that focuses on living in a world with violence on the increase. The sessions run for 45 minutes. The last session will be on February 22nd. Childcare (or the option of Sunday School) is available for children.
Coffee and refreshments will be served.

Dust to Dust
On February 25th, we take time to remember that God is our Creator and in control of our lives.   He molded us from the dust, and so we "remember that you are dust, and to dust you shall return."   This day is known as Ash  Wednesday and marks the beginning of the solemn season of Lent. The Ash Wednesday services are on February 25th at 12 noon in the Worship Center and 7pm in Roetter Hall. The church is located at 4321 Eastgate Mall, on the south-east corner of Genesee and Eastgate Mall.
Leanne Shawler
Good Samaritan Episcopal Church
leannes@goodsamchurch.org
Christmas Tree Lighting
Standley Park will come alive with music and lights as young and old gather in front of the Rec Center for the annual Christmas Tree Lighting Friday, December 12th, at 6:00 p.m.
You won't want to miss this special event. Bring your kids and grandkids, friends and neighbors, or don't hesitate to come alone to enjoy the festivities.
The talented Standley Middle School band will entertain along with the Tuesday Night Alibi quartet and the Our Mother of Confidence Children's Choir. There will be balloons for the kids, a visit from the fire department, and Santa himself will be there. Hot chocolate and cookies will be served compliments of Westfield.
Thanks to co-chairs, Mary Ann Guerra and Darlene Ventimiglia and Decoration Chair, Judy Bethel and all their elves who did such a wonderful job decorating and planning this community event. UCCA especially wishes to thank Miramar Nursery for donating the beautiful tree and Westfield for providing lighting, refreshments and balloons. We appreciate their very generous support.
it was wonderful to see those decorations, hear that wonderful Standley band and children's choir.  So nice to have the firemen and women there too, not to mention the cookies and hot chocolate.
Thanks to Santa too!
Christmas Music
The Traditional Choir of Our Mother of Confidence Church will present an afternoon of Christmas Music on December 14th, 2008 at 3:00 PM., featuring carols by English Composer John Rutter, Traditional Carols and popular Christmas Songs in a special sing-along section. A $10.00 donation gets you a seat, wine, hot cider, tea or coffee and some light snacks. Come and enjoy a wonderful musical experience. Tickets available at University City Travel, in the Henry's Shopping Center on Governor Drive. Please visit www.ucshowtime.com for details or call (858) 736 4128.
Health Fair at University City United Church of Christ
There will be a Health Fair at University City United Church of Christ Wednesday, January 21 at 7 p.m. Panel discussions will include long-term care, Alzheimer's disease and transportation for the elderly. University City United Church is located at 2877 Governor Drive. For more information, call (858) 453 3444 or visit us online at www.ucuc.org.
Music at Our Mother of Confidence Church
Our Mother of Confidence Church is looking for people interested in singing good choral music.
The choir uses standard hymns during liturgies and frequently sings choral masterpieces by Mozart, Beethoven, Bach, Haydn and Brahms before mass. It is currently working on music for Christmas including carols arranged and composed by John Rutter.
The choir sings at the 11:00AM mass on Sunday mornings and it rehearses between 7:00 PM and 9:00 PM on Thursday evenings. As a perk for committing to membership in the choir, group singing and sight-reading lessons are being offered by the choir director. If you are interested, please contact Glenn D'Abreo at (858) 452-0248, or e-mail gjd@san.rr.com.
A concert of Opera and Broadway music is planned for Sunday, November 9th 2008, at 3:00pm, at the church. Featured will be Glenn D'Abreo, tenor, Metropolitan Opera Audition winner, and Anthony Leonard, tenor, San Diego Opera Chorus member and local soloist. A $10 donation will cover the cost of admission and refreshments (wine, coffee/ tea and light snacks). For ticket information please call Glenn D'Abreo at (858) 452 0248 or e-mail gjd@san.rr.com.
La Jolla Symphony & Chorus
The "hot" ticket in town is starting to be for the symphony. In this case, it is San Diego's other symphony – the La Jolla Symphony & Chorus (LJS&C) located on the UCSD campus.
Led by new music director and internationally renowned percussionist Steven Schick, the orchestra and choral ensemble are gaining recognition locally and nationally. Schick and the La Jolla Symphony & Chorus begin the 2008-2009 season the weekend of November 1 and 2. Titled "The DNA of Music," the season explores the building blocks of music, beginning with "Time" in November.
The new season will see more composers-in-residence and guest artists, including Bostonbased composer Evan Ziporyn in December and cellist Maya Beiser in May. Concerts are performed in Mandeville Auditorium on the UCSD campus. Parking is free on concert weekends.
Tickets are $15-$26. For more information, call 858-53404637 or visit www.lajollasymphony. com.
Thanksgiving Vesper service
University City United Church invites the community to a Thanksgiving Vesper service at 6 p.m. on Sunday, November 23.
The special vesper service will be a celebration of song and praise, and will honor UCUC Choir Director Jeanne Stutzer and Bell Choir Director and organist Ruth Sayre. The service will feature the musical talents of the church's choirs including the youngest members of the Cherub Choir, the older children which make up the Seraphim Singers and the adult Chancel Choir.
Everyone is encouraged to bring toiletry items and note cards to donate to the collection that will taken to benefit the San Diego Mental Health Alliance.
Everyone is invited to enjoy pumpkin pie and coffee after the service. Child care will be available.
UCUC is located at 2877 Governor Drive. Please call 453-3444 for more information or visit our website at www.ucuc.org.
Christmas Boutique

Good Samaritan Episcopal Church December 6th, 9am to 2pm. Crafts, Christmas Decorations, Toys Food, Games, etc.

Good Samaritan Episcopal Church is located at 4321 Eastgate Mall on the corner of Genesee Avenue and Eastgate. Contact the church office at 858-458-1501,
Leanne Shawler, leannes@ goodsamchurch.org.
Christmas at Good Samaritan Episcopal Church
The Christian Story in Words and Music is on December 7th, 9:00 am. Take some time for yourself, refresh your spirit and get into the Christmas mood with our annual "Lessons and Carols" service, Sunday, December 7th @ 9:00am. It's a chance to be reminded of the Christian story, along with gorgeous musical accompaniment in a service steeped in Episcopal church tradition. Eight readings chart the Christian faith from Genesis to the Gospels. Sing along to some of your favorite carols. Enjoy the delightful sounds of a string quartet and the harmonies of our choir.
Our Christmas services are 5:00pm and 10:30pm for Christmas Eve in our Worship Center, and on Christmas Day at 10:00am. All are welcome to attend. Our Children's Christmas Pageant will be on the 21st December.
Good Samaritan Episcopal Church is located at 4321 Eastgate Mall on the corner of Genesee Avenue and Eastgate Mall, just two blocks north of UTC Westfield Shopping Center. For more information, please contact the church office at 858-458-1501, Leanne Shawler, leannes@goodsamchurch.org.
Seven-part study series Claiming the Promise
University City United Church of Christ will host a seven-part study series, Claiming the Promise. This series will give participants an opportunity to discuss the upcoming statewide ballot initiative on gay marriage and to learn more about the Bible and its teachings. The focus will be on the biblical passages which are invoked to discuss homosexuality. The study outline is an ecumenical resource developed in cooperation by ten mainline denominations including the United Church of Christ. We hope to understand more about our feelings regarding homosexuality, as well as what these often-quoted biblical passages mean to us today. We'll also discuss the various ways we interpret scripture.
The series is sponsored by UCUC's Growing Spirit Committee. Each session will be presented from 7 to 8:30 p.m. on Wednesdays, beginning September 24th through November 5th. Facilitators will be UCUC Rev. Curt Fuller, Sharon Reynolds, and Sally Buffington.
For more information, call UCUC at (858) 453-3444. The church is located at 2877 Governor Drive.
Health Fair at University City United Church of Christ
There will be a Health Fair at University City United Church of Christ on Wednesday, January 21 at 7 p.m. Panel discussions will include long-term care, Alzheimer's disease and transportation for the elderly. University City United Church is located at 2877 Governor Drive. For more information, call (858) 453-3444 or visit us online at www.ucuc.org.
Meet close up and learn about animals
Meet close up and learn about the kinds of animals that live in Rose Canyon Open Space Park and elsewhere in San Diego County with the Friends of Rose Canyon and the San Diego Recreation Department.
Please, check the flyer and their site for all upcoming events.
U.C. 4th of July Celebration
WOW! The U.C. 4th of July Celebration did turn 20 this year and was packed full with events. What a great celebration, the best turn-out in years! See for yourself and learn more about the celebration on the U.C. 4th of July Celebration page.
What an epic undertaking! That's how a first time volunteer summed up this year's Fourth of July Celebration. In all my years as chairman, I'd have to agree that this was the most successful in the sense that we had a variety of events and activities which flowed seamlessly. There was something for everyone with the usual emphasis on children and families.
Starting the day off was the 5 K race, a pancake breakfast, and a bike parade. After opening ceremonies, we had field games, pony rides, dunk tank, astro jump, a monkey bridge, robotics demonstrations and a photo scavenger hunt.

The day's entertainment brought Hawaiian dancing, martial art exhibits, a barber shop quartet, a folk singer, and The Stingrays!

There were almost 50 food and craft booths including our Beer Garden and Book Barn.
A unique feature this year was the impromptu fire fighting demonstration by the San Diego Fire Department in the canyon behind the park, complete with a 375 gallon water drop from a Copter 1.
With balloon artists, face painting, open swimming, and The Old Town Trolley we accomplished the quintessential Norman Rockwell picture of a perfect town festival.

I wish to thank our major sponsor, Time-Warner Cable and the many businesses and individuals who donated gifts and prizes. All could not have been accomplished without the wonderful efforts of our Standley Park Recreation
personnel, the tireless participation of the University City First Baptist Church, and the small group of dedicated residents who make up the planning committee.
UCCA appreciated the talented Standley Middle School Band that performed during the July 4th bike parade. Mr. Marcus and his band added to the event.
The Sunday Summer Concerts at Standley Park drew
large crowds and talented bands. Without the help of
the stage crew that put the stage up piece by piece and
broke down the stage after the concerts, U.C. would
have missed out on the music. Big thanks to the U.C. teens: Shlomit OVADIA, Theo CROWLEY, Tyler and
Jacob MASKIEWICZ and Josh HOGUE.
I appreciates all your efforts in making the 20th UC Celebration the one to remember.
That is, until next year!
Andy Freeburn, President
University City Community Association
Many thanks to Andy Freeburn, the UCCA president, the 4th of July Celebration committee and all who worked on the celebration.
First University City photo race
Held as part of UC Celebration on the 4th of July, 2008, the
first University City Photo Race attracted more than twenty teams to compete in the clue-solving photo scavenger hunt around the community, and thirteen teams successfully found all the clue checkpoints. The race started at high noon in front of the main stage at the neighborhood festival, with on-site registration going all morning.

The Photo Race got off to an auspicious start as the reviewing of the rules was interrupted by a canyon fire behind Standley Park. But the teams weren't distracted by the commotion and solved the clues that led them around University City. The top three teams were:
1. "Team Sexy" - Hannah, Jay, and Nick (plus some guy in a weird hat),
2. "JKM Productions" - Jake and Joshua and
3. "Purple Ninja Pickles"- Nina, Or, Alec and Christy
The fastest teams didn't let the heat slow them down as they ran around UC and finished the race in just over a half hour, while other teams walked the course and finished in about an hour.

At the start of the race, teams were given a sheet of ten clues. Each clue, when solved, would lead them to a location or item in University City, and the teams
had to reach that location, and take a photograph of themselves there.
At the awards ceremony, the top teams received prizes from the U.C. Celebration Committee. Here's one of the clues that the teams had to solve and then find in UC to take a photograph with:
He was an admiral and ambassador to the Soviet Union,
but most UC residents are more familiar with the school that is named for him. Take a picture with the sign that lists his middle initial, "H".
For the answer to this clue, and to see all the clues and race results, go to http://www.sdrocketrace.com
universitycityphotorace.
The University City Photo Race was sponsored by the U.C.
Celebration Committee and designed and organized by
San Diego Rocket Race, led by Dan HAMMAN and U.C. resident James FLOYD.
The competitors at the starting line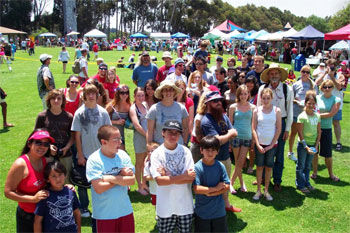 Children's Bike Parade
The 2008 UC Celebration hosted its annual Children's Bike Parade again this year.
The parade was a huge success. The parade was joined by the Standley Middle School's Marching band leading us down the street to the festivities in the park. Each child who had decorated their bike was given a shiny medal on a red/white and blue ribbon to wear in the parade. We had over 100 participants riding their bikes and scooters and a few smaller ones being pushed or pulled behind the Standley marching band playing patriotic music. It was great fun!
Barry Bernstein and several parents are hoping to have a real parade down Governor Drive in 2009. So, if you are interested in helping us plan for next year, please call Barry (858) 453 3713 or Barbara (858) 552 8978. Our first meeting will be held at 5:30pm at the UC library on September 10th. Hope to see you, your friends and your ideas there!
4th of July fireworks

At noon on the 4th of July, there was smoke coming out of the canyon, south of the Standley Park tennis courts, probably some kids down there with fireworks.

The helicopter and several fire engines showed up to extinguish it. On the picture here below eas taken during the brushfire, just after the helo dropped the fire retardant.
Helo dropping fire retardant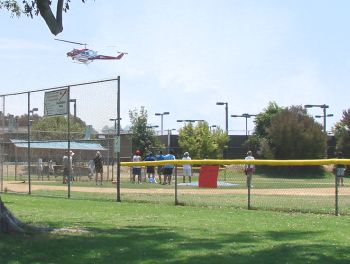 Photo by Matthew K. WUEST
Santa Fe 3751 Steam Locomotive
On Sunday, June 1st, the Santa Fe 3751 Steam Locomotive
went from L.A. Union Station to downtown San Diego. The engine was built in 1927 and retired in 1953 and is in the National Register of Historic Places. It was restored by San Bernadino Historical Society. Lots of University City residents and guests lined up along Rose Canyon and got a good look at the train passing through twice, on the way south and the return trip north.
Thanks to James Matson and his dad Tom for the information, and to Maya for the picture.

Santa Fe 3751 Steam Locomotive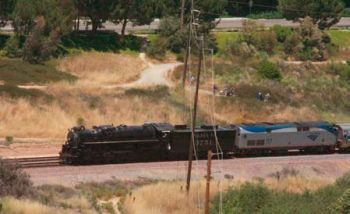 Photo by Maya