University City Community sites...
Here below are some great community sites.
EdUCate!
EdUCate! is the University City non-profit foundation for Public Schools. EdUCate! sponsors events to benefit public education in the U.C. community, such as the Taste of the Triangle, Dollar a Day, and the Friendraiser each Spring. EdUCate! also recognizes out­standing teachers through its annual Grants Awards and Honor-A-Teacher (HAT).

EdUCate! suggests a donation of $1 per calendar or school day but please give what you can, even if it's a dollar a week. You can donate online, making automatic monthly
payments if that's easiest. You can mail them a check. You can even give them cash, ask at your school.
Friends of Rose Canyon
Prepare your hike with the Friends of Rose Canyon and check out their numerous activities (bird walks, Bioblitz, etc).
Booth of the Friends of Rose canyon association at the annual 4th of July Celebration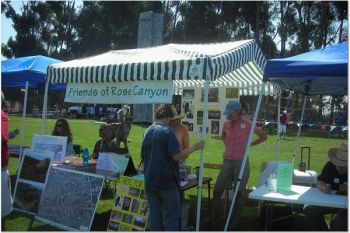 SD Backyard
sdBackyard.com is a site created for communities in San Diego County, with all stories, photos, videos and content provided solely by community members.
Launched in April 2008, this unique site — the only one of its kind in San Diego County — is brought to you by The San Diego Union-Tribune.
Connecting UC
Lively site, packed with information - family, health, weather, U.C. realty... They edit and distribute a monthly newsletter that can also be uploaded on their site.
Family Jewish Service San Diego
University City Older Adult Center, Rides&Smiles® Volunteer Driver, On the Go Shuttle Escort, On the Go Excursion Chaperone and much more...
GOODWILL
UNIVERSITY SQUARE (VON'S) SHOPPING CENTER
Monday-Friday 9 am-7 pm, Saturday 9 am-6 pm, Sunday 10 am-5 pm
4023 Governor Drive
SAN DIEGO
CA 92122
Corner of Governor Drive and Genesee
(858) 909 0200
Conveniance, enjoyment and peace of mind while your patronage creates jobs for people with disabilities!

Your donation may be tax deductible.
Staffed 7 days a week, 362 days a year to accept donations of clean clothing, accessories, small working household items, and Computers /televisions (working or not).
Goodwill Industries accepts donations of computers and electronic equipment (working or not) free of charge, at all donation centers and stores, including the one in University City at the Park and Ride close to the 805.
Goodwill is an authorized collector through the state and your donation of electronic equipment may be deductible as a charitable donation if it is working. Goodwill asks that those with large quantities or businesses to contact our main office at (888) 446 6394 to arrange a drop-off, so that the items will be secured.
The bookstore features over 20,000 like-new books in 30 categories including fiction, history, cooking, self-help and much more.
Shredding confidential, financial, legal, and medical documents. Secure facility (exceeds government standards), insured bonded staff.
Salvation Army
8:30am - 5pm, Monday to Friday, at the Park and Ride on Governor and the 805.