Seniors...
University City Older Adult Center, Jewish Family Service SAN DIEGO
Aviva SAAD, program coordinator U.C.
San Diego, CA 92122-2440
9001 Towne Center Drive
San Diego, CA 92122
phone: (858) 550 5998
fax: (858) 550 5997
www.jfssd.org

Please, see the Monthly highlights page or contact the center by phone or visit www.jfssd.org for more or to register for the latest e-news from JFS.
The University City Older Adult Center, a program of Jewish Family Service, offers a safe place where older adults can socialize, learn and grow. The Center offers two different programs for older adults in the La Jolla, University City, Clairemont and surrounding communities. Both programs meet at Congregation Beth Israel located at 9001 Towne Center Drive and honor, respect and understand the aging process while providing a safe haven to older adults.
One program meets on Tuesdays, Wednesdays and Thursdays from 10am to 2pm and offers a caring and friendly environment that stimulates people's minds, spirits and bodies. Exercise, lectures, musical performances, life celebrations, games and a delicious kosher lunch is served daily. Participants enjoy a day of fun laughter and friendship. This is the perfect program for people who want to enrich their lives, be around other people, belong to a community and enjoy life.

The Encore program, a program for active older adults, meets on Wednesdays. This program offers great opportunities for meeting new friends, discovering hidden talents, engaging in learning and adding a new meaning in life. Members' interests and ideas shape the programs. Clubs are formed to provide a comfortable and safe place for members to reach their potential. At the present we have an art club, a meditation club, a theater club, a discover San Diego club and an Israel Advocacy club. Currently the Theater group is casting people to participate in a Vaudeville Show. For more information, to order lunch and to attend a program call (858) 550-5998. The cost for lunch is $6.00 for non-members, $5.00 for members. Round trip transportation is offered by
ON THE GO, the JFS community transportation program, for $3.00 each way. You can reach them at 877-634-6537.
January activities


Tuesday January 6
10:00am Travel through the U.S.A. Enjoy a slide show of some of the greatest places on the East Coast.
11:00 am Movement with Brenda
12:00pm Lunch
1:00pm Entertainment by Singer and Pianist Joan Kurland
Wednesday January 7
10:00am BINGO
11:00am Silver Age Yoga (chair yoga)
12:00pm Lunch
1:00pm Conductor David Amos
1:00pm ENCORE: "Theater Club" with Patricia Riley
Thursday January 8
10:00am Rabbi David Katz: Everything you always wanted to know about Judaism and
should have known already.
11:00am Chair exercise with Aviva
12:00pm Lunch
1:00pm Musical Entertainment by Matt and Jasmine

Tuesday January 13
10:00am BINGO
11:00am Movement with Brenda
12:00pm Lunch
1:00pm Dance and enjoy the music of Cam Vidal
Wednesday January 14
10:00am Who is Maestro Gustavo Dudamel? A leading figure in the music world.
11:00am Silver Age Yoga
12:00pm Lunch
1:00pm UCSD Poets of Noise, a non-profit student service organization
that utilizes each member's musical talents to share the joy of music. Enjoy classical, jazz, and pop music.
1:00pm ENCORE: Meditation with Hanna Kluner
Thursday January 15
10:00am Movie: The Sound of Music
11:00am Chair fun exercise with Aviva
12:00pm Lunch
1:00pm Enjoy the music of Celia the Fiddle Girl
Tuesday January 20
10:00am Martin Luther King
11:00am Movement with Brenda
12:00pm Lunch
1:00pm Music of flutist, saxophonist, composer and conductor Yochanan Sebastian Winston
Wednesday January 21
10:00am Brain games with Arlene
11:00am Silver Age Yoga (chair yoga)
12:00 pm Lunch
1:00pm Pianist Ron Loscalzo
1:00pm ENCORE: Israel Club. Nina Brodsky. The Arab Israeli
Conflict: From Understanding to Advocacy.
Thursday January 22
10:00am This month in History
11:00am Chair Fun Exercise with Aviva
12:00pm Lunch
1:00pm Enjoy the music of Al Jacobs
Tuesday January 27
10:00am BBC Video: Planet Earth: Jungles
11:00am Movement with Brenda
12:00pm Lunch
1:00pm Enjoy the music of Raymond
Wednesday January 28
10:00am Let's Laugh, watch the funniest shows ever produced.
11:00am Silver Age Yoga (chair yoga)
12:00pm Lunch
1:00pm The Melodiers
1:00pm ENCORE: The Road to Retirement and Beyond. How to Navigate
Through Today's Economic Challenges. Speaker: Sheldon Goldman,
CFP, Senior Advisor at Hoyle Cohen Wealth Management
Thursday January 29
10:00am BINGO
11:00am Movement with Brenda
12:00pm Lunch
1:00pm Accordion Music with Diane Polinski
Geriatric Care Management
8804 Balboa Ave.
San Diego, CA 92123
(858) 637-3040
www.jfssd.org
The Geriatric Care Managers at Jewish Family Service are professional experts when it comes to the aging process. Their compassion and knowledge will help you manage the growing and complex demands and responsibilities of caring for yourself or your loved one. With personalized short-term solutions and long-range plans, they can ensure your safety, independence, and a high quality of life.
Geriatric Care Managers visit with older adults to address any and all concerns and conduct a comprehensive needs assessment. Family members are encouraged to be a part of this process.
Issues addressed include: family issues, transportation, meal delivery and shopping, caregiver services, paperwork organization and bill paying, socialization, safety, medical and legal needs, medical appointments, home repair and maintenance, relocation and moving, helping adjust to a death, illness, retirement, or move.
The Geriatric Care Manager will work with the older adult and their family to develop a detailed plan of care, including recommendations and referrals.
Geriatric Care Managers act as advocates, consultants, and educators. Many older adults and families choose to have the services of a care manager ongoing in order to monitor, arrange, and provide for the above services.
Fees are based on a sliding scale. All Care Managers are bonded and insured.
For more information about the Jewish Family Service Geriatric Care Management program contact (858) 637 3040 or visit www.jfssd.org.
On the Go, Transportation solutions for older adults
2525 Camino Del Rio South, Suite 265
San Diego, CA 92108
(877) 63 GO JFS
www.jfssd.org
On the Go brings easy and affordable transportation solutions to older adults age 60 and over.
On the Go consists of three components offering both group and individual transportation. Through the expansion of the existing Rides & Smiles® program, volunteer drivers provide individual transportation for older adults to necessary medical and personal appointments. On the Go Shuttles provide group transportation to Jewish Family Service's Older Adult Centers, the Lawrence Family Jewish Community Center, synagogues, religious events, shopping centers, and other cultural outings and events. On the Go also offers exciting organized excursions to locations throughout San Diego County and surrounding areas.
For more information call (877) 63 GO JFS or visit www.jfssd.org.
Standley Recreation Center
Come play cards on Friday morning at the center! Please, call Standley Recreation Center for more details.
Senior apartments
There are 2 senior apartments in the East end of Governor: Town Park Villas and University City Village.
Right Choice Senior Living is the newest residential care home located in the West End of University City.  Our home is located in a quiet, upper middle class, and highly desireable neighborhood close to UCSD, medical facilities and the beach.
Town Park Villas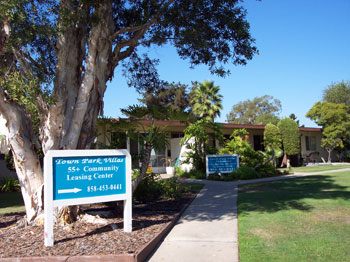 University City Village