University City 4th of July celebration...
To volunteer,, please, use the form in the Contact us page or send an e-mail to celebration@ucca-news.org.
Traditionally, there are pancake breakfast, food, games, raffles, vendors, book barn, dunk tank, craft boots, pony rides,5K run/walk, concert and... a trolley going up and down Governer Drive!
Recently, a 4th of July bike parade and a photo scavenger hunt/race have been added for the excitement of all. Sign for the annual University Sity 5K run/walk - print and mail the entry form!
We do accept your unwanted books for our ever popular Book Barn the first three days of July each year. You may drop your book donations at the Standley Park Recreation Center, located at 3585 Governor Drive during its normally open hours. Please, do not "dump" books at the front door. Children's books are always needed. For more information, you may e-mail aj_epi@yahoo.com.
Join us for the annual 4th of July celebration in Standley Park!
The U.C. Celebration planning committee
The U.C. Celebration planning committee is looking for sponsors for the 4th of July festival, known as U.C. Celebration.
We have an opening for the trolley which runs up and down Governor Drive during the event. The trolley sponsor would be able to place their advertising on the trolley as well as receive recognition in all flyers, posters, and newsletter and Internet articles.
We can also gladly utilize any other donations, either as prizes or to offset the cost of the event. All inquires are appreciated. Please, contact Andy at president@ucca-news.org.
Join the U.C. celebration planning team! Send an e-mail celebration@ucca-news.org.
The 2008 U.C. 4th of July celebration
SCHEDULE OF EVENTS
7:00 A.M. Registration for 5k Fun Run
8:00 A.M. 5k Fun Run
8:30 – 10:30 A.M. Pancake Breakfast
11:00 A.M. Bike Parade led by Standley Middle School Band
All Morning -- Photo Scavenger Hunt
11:30 A.M. "Official" Opening Ceremony led by U.C.'s own -
Tuesday Night Alibi
12:00 P.M. First Field Games
12:30 P.M. Hawaiian – Polynesian Performance
1:30 P.M. Second Field Games
2:00 P.M. Paul Dal Karate Demonstration
2:30 P.M. Third Field Game: Tug of War
3:00 P.M. Performance by Mary Froemke
5:00 – 7:00 P.M. Entertainment by Joey and the Stingrays
Bring your digital cameras and/or camera phones to Standley Park for a photo scavenger hunt / race on July 4, 2008. Participant teams will receive a clue sheet with a list of puzzles that, when solved, will describe locations in the University City area. The first team to return to the starting line with photos of themselves in each location will be declared the winner. All locations will be within walking distance of Standley Park and is designed to be completed on foot. Prizes will be provided and entry is free. For more information, please visit www.sdrocketrace.com or e-mail James at jawajames@gmail.com.
Decorate your bikes, trikes, scooters, baby strollers and even wagons to join the Bike Parade on July 4th. 11:00am Meet at 10:50am on Governor Dr sidewalk by Stanley Middle School.
The place to be this Fourth of July is Standley Park. No matter what time of day you show up, they'll be something to see or do. We've brought back the 5 K race, pancake breakfast, bike parade, pony rides, dunk tank, astro jump, pony rides, the monkey bridge, and robotics demonstrations. We've got more than 50 craft, information and food booths. We've got Hawaiian dancing, martial arts demonstrations, a barber shop quartet, a folk band, and our headline entertainment, The Stingrays!
The Old Town Trolley will be traveling up and down Governor Drive from 12:30 until 7:30 p.m. Swanson pool will be open to the public from noon until 4:00 p.m. New this year is a University City photo scavenger hunt starting at noon (registration from 10:30 a.m.).

Our major sponsor, Time-Warner Cable, is bringing back their prize wheel. We've also got balloon artists, face painting, balloon toss, sack races, and tug of war competition. Of course we've got our Beer Garden
and Book Barn open until there's no more inventory or until 7:00 p.m.!
The 4th of July concert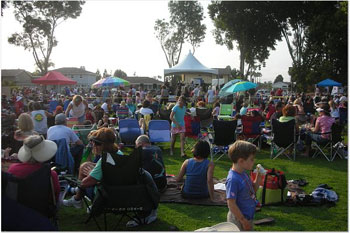 The popular bike parade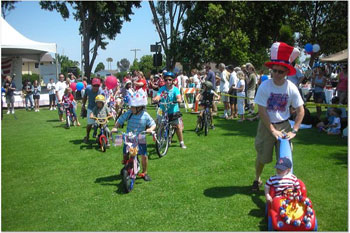 The ever popular Book barn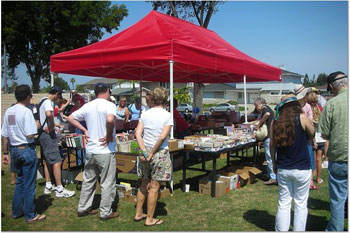 Poney riding