University City news...
To send us your news, please, use the form in the Contact us page or send an e-mail to editor@....
For past news, please, see the Archives page. For more, please, review the newsletters archive at the Newsletter page.
Please, check out the calendar on the left for all current events!
To view our calendar, hit the View my Calendar button.
To add your own event online, hit the View my Calendar button, then click on the date of your event. To update your news, contact the webmaster.
To resume browsing the UCCA site after after you have viewed or edited the calendar, please, hit the link Return to home page in the upper right of the calendar or the Go back one page button (the left arrow) of your browser.
Summer concerts 2009
Cymer, Vigilucci's Restaurants, and UCCA have signed on to sponsor various bands for the summer concerts. If you wish to sponsor one of the bands in the best concert series ever in U.C., please call 945-2387.
With the Marine Band San Diego closing out the concert series on August 30th, it would be great to have a trolley going up and down Governor to cut down on parking problems. Another chance to sponsor.
Speeding cars
Speaking of cars, one issue raised at UCCA's community forum in March was concerns about speeding on Stresemann and Soderblom near Mission Bay Montessori School. Sherri Lightner's office worked with SD Police Northern Division.
If there are other issues related to speeding, contact Officer Steve Schnick at 858-552-1713 or sschnick@pd.sandiego.gov.
Jacaranda trees
Three new Jacaranda trees were planted at U.C. Village Park, at Florey and Gullstrand, thanks to the generosity of The Village Garden Club of La Jolla. The club has donated over 110 Jacaranda trees to San Diego communities, including U.C. last year. We received several trees planted on the Governor medians and at Park and Ride near 805.
Educate!
EdUCate! would like to thank everyone who supported us this school year. Through your generosity we provided over $78,000 to the five schools. Most of this went towards the purchase of 54 MacBook Pro laptop computers, which will complement digital projection and document camera equipment provided by EdUCate! over the last few years. Our total need in the five schools is 230 laptops, so we'll be working on this project for another 2 – 3 years.
Our donors supported UC's fabulous public schools in the following ways this fiscal year (our FY ends June 30th): •Dollar A Day direct donation program earned about $34,000. • Honor a Teacher donors recognized 144 teachers with 245 donations. • Teacher Wish List brought in close to $3500 in just a few months (February – May). Teachers' requests ranged from glue sticks to dissecting kits to printers, and 55 wishes were granted. • Tastes of the Triangle net proceeds were about $70,000. Please patronize our donor restaurants over the summer. They're listed on our website, under "events." • A generous grant from La Jolla's Las Patronas foundation brought in about $13,000. We will continue to seek support from corporations and private foundations.
Many donors stepped up when the UCHS student newspaper, The Commander, faced a budget shortfall that threatened the last two issues. TWL is "dark" for summer, but will be replete with requests in the fall.
We are busily planning a NEW EVENT for fall. Don't miss the First Annual EdUCate Oktoberfest! October 3, 2009 at Standley Park, from 2 – 8 pm. Friends, Music, Contests and Food & Beer plus great fall activities for the kids! Start Growing now!! There will be a homegrown pumpkin contest for biggest pumpkin, roundest pumpkin and ugliest pumpkin. Plant those seeds now! Also, try your hand at canning and submit a jar of homemade pickles or jam for our judges to choose from. AND While you are in the kitchen, dust off your favorite recipe for our pie making contest. If you would like to get involved please e-mail Brook Feerick at feebr@aol.com or Michele Lolly at mflolly@wilsonlolly. com. You can also the EdUCate! office and leave a message with your callback number: (858) 677-0989. Look for more information on our web site www.uceducate.org as the date draws near.
Swanson pool
Swanson Pool would love to have everybody in the pool. Dominic Mangione, Swanson manager, has a wonderful program. Check out Swanson.
Remember the City closed the pools and pointed to low usage as a reason.
Community library
Our U.C. Community library on Governor is scheduled to open after having new paint and carpeting installed. The tentative reopening is June 8t.

Water restrictions
Mandatory water restrictions are in effect since we moved to a Level 2 Drought Alert on June 1st. These include the water conservation practices that were voluntary under the Level 1 alert.
Do you know the days and times you may water your landscape? From June 1 – October 31, homes with odd-numbered addresses can water on Sunday, Tuesday and Thursday. Homes with even-numbered addresses can water on Saturday, Monday and Wednesday. Apartments, condos and businesses can water on Monday, Wednesday and Friday. Irrigate only between 6p.m. and 10 a.m.
To get a complete list of all the mandatory water restrictions, check the Water Department website www.sandiego.gov/water or call (619) 515-3500.
To report a water line leak, meter leak or pressure problem, call the Water Department's Emergency Hotline at 619-515-3525.
East Miramar Prescribed Burns May 26 - June 15
Dear Community Members,The MCAS Miramar Fire Department has asked the CP&L Office to inform local residents that from May 26 - June 15, the Fire Department will be conductining a series of prescribed burns on base property in East Miramar.
These prescribed burns are designed to reduce vegetation growth along the fuelbreak network of East Miramar and is part of the MCAS Miramar Fire Department's annual vegetation management program to reduce wildfire risk within the Station. The next series of scheduled burns will begin at 10 am on Tuesday, May 26 and will take multiple "burn" days to complete over the next three weeks. The exact days of burning will be determined within 72 hours of ignition time and are always subject to weather and air quality factors.
The burns will occur in the central portion of East Miramar and smoke from the burns will be visible from Interstate 15= Highway 52, and local communities. If you could please notify other members of your communities not on this mailing list, the CP&L Office would be most appreciative.
Thank you all for your understanding and if you have any questions, please feel free to contact Asst. Fire Chief Paul Tompkins at 577-6136 or 864-4205.
Juan Lias, (858) 577-6603
MCAS Miramar CP&L Office Community Planner
UC Resident Wins Holiday Bowl Volunteer Award
UC Resident Wins Holiday Bowl Volunteer Award Pat Drobeck of University City is the recipient of this year's Holiday Bowl Kathy Herney 110% Volunteer Award. The Holiday Bowl Hall of Fame Induction and Volunteer Recognition Luncheon took place on Tuesday, May 12th at the Manchester Grand Hyatt During her years of service Pat worked the early morning hours at the Hospitality Tent processing Parade entrants, made costumes for the balloon handlers, cashiered at the Hole in One contests, was a scorekeeper for the 3 on 3 Basketball Tournaments and worked the setups for the tailgate parties for the Poinsettia and Holiday Bowls.
School Board member discuss the future of  University City schools
Please join School Board member John Lee Evans in the University City High School Media Center for a meeting on Monday, March 9, 4:30 p.m. for a discussion on the future of  University City schools. 
Please share the information about the upcoming meeting with all parents, teachers, and community groups. Dr. Evans would like to make sure as many people as possible are informed and able to attend. 
Free exercise class
FREE exercise class at Standley park & Rec. Center, 3585 Governor Dr., 9-11 a.m. on Fridays.
The class incorporates Aerobic, Walking, Toning Muscles, Increasing Bone Density, Weight Lifting & Mat work optional.
The class is offered by the San Diego Community College Emeritus Program. For questions, contact (619) 221-6973. Jo Anne Alcala, M. A.from UCLA, is the instructor.
New water polo program
Ian Romanas is planning to start the new water polo program at the JCC in March. It's Mondays and Wednesdays, 3:00-4:00, for ages 7-14. Ty Lackey, the water polo coach at UC High, is working with the people in charge to make sure it serves various skill levels.
Click here to learn more about.

EdUCate!
EdUCate! and the 5400 students at UC's five public schools have wrapped up the first semester of the 2008-09 academic year. Thanks to all school and community families who donated to our fall Dollar A Day campaign. We were able to raise about thirty thousand dollars, which will be used for laptop computers for classrooms. If you know an educator, coach, or staff member who provided exceptional support to your student(s) this semester, consider honoring him or her with an Honor A Teacher (H.A.T.) award. The recipient will be notified of your cash donation (though not of the amount given). He or she will be given a certificate with your personal message of thanks. Most teachers proudly display their certificates in their rooms, and ALL appreciate the recognition.
Online donations can be made at www.uc-educate.org/honor_a_ teacher.asp. Donation forms are also available in the school offices or the PTSA newsletters.
EdUCate! is launching another new program, the Teacher Wish List. While many teachers let classroom parents know what items they could use (from Kleenex in kindergarten to high def cameras in high school), we feel there is a big advantage to increasing the donor pool to the entire community. Beginning in January, teachers will be asked to dream big and post their hearts' desires on our web site. Potential donors will be able to browse by school, find the teachers and projects they are most inclined to support, and contribute all or part of a coveted item's price. EdUCate! will play matchmaker and checkwriter, and will provide a receipt for your tax-deductible donation. While EdUCate! has changed its primary focus from fulfilling individual teacher grants to global, long-range needs of our schools, we recognize the continuing need to support the needs of specific teachers. The launch of our new Teacher Wish List will serve this purpose. Check the website for new postings throughout the school year.
Taste of the Triangle
SAVE THE DATE! Taste of the Triangle has moved to April 3rd, 2009. Kick off Spring Break with a Friday night at the beautiful Hilton Torrey Pines La Jolla. The restaurant list will feature our long-time supporters plus new friends from the finest restaurants, including the new, highly-acclaimed Kitchen 1540 at L'Auberge Del Mar (and EdUCate! board member, Chef Paul McCabe). Bid on summer vacation travel and other steals at our silent auction. Mingle with teachers, administrators, alumni and friends while listening to student musicians and enjoying sea breezes in a striking indoor/ outdoor venue. Childcare will be available at Standley Park and Rec for a small fee.
University City Community Library 2010 Budget
University City Community Library Faces 2010 Budget in February U.C.'s Community Library has remained open. Community activists took to the street, the computer, and phone to register their deep disappointment in balancing the city budget on the backs of libraries and those who love and use their community libraries, especially children and seniors. U.C. got a temporary reprieve. February will see the 2010 budget begin to form. Mayor Sanders will look to all of his department heads to cut a chunk out of each department's funding.
Libraries have taken a big financial hit in the budget debacle. We need to find funding for our important libraries so that we don't have to "reinvent the wheel" each time budgets are being planned.
A survey on prioritizing the public's library needs may show up for you to fill out. Here's a sample question. Prioritize what is most important to least important: branch libraries in neighborhoods, downtown central library, youth library program. A library advocate challenged this type of survey question. She said : "This category is done with a complete disregard or complete lack of awareness of the organizational structure of the library system- a central library with an extensive collection of unique resources and in-depth subject expertise provided by professional staff which supports branch libraries. Central services cannot be extricated from branch services as the system now exists and has for decades. Why would youth library programs be extracted from the myriad of other services provided by the library as the sole third choice?"
A public policy change might find the mayor seeking national relief for libraries through the federal stimulus package being prepared by President Obama. Libraries are busier than ever during economic downturns. They offer CD's, DVDs, videos and audio books and all kinds of stuff for kids. You can use free high-speed Internet to surf the Web to find even more savings. Libraries provide expert help, offering assistance to with job searches, homework, and tax returns. Classes are offered at most libraries, and storytime for toddlers is not to be missed.
Branch libraries must be supported. Central library must be supported. Well trained staff must be supported.
Friends of the Library is an important group to consider joining. Simply ask for an application at the U.C. library desk. In the meantime, UCCA will continue to peek over the shoulder of the mayor, City Council, and budget analyst as they figure out how to balance the budget; we will help them understand the community's wishes, the ones who elected them. Councilman Tony Young is chair of the budget committee. He proposes coming to communities early on in the budget planning and listening to the locals' priorities. Contact Councilman Young and express your support for branch libraries and park and recreation centers at anthonyyoung@sandiego.gov, copy
Mayor Sanders, jerrysanders@sandiego.gov, and Councilwoman Lightner too, sherrilightner@sandiego.gov. Send your ideas to editor@ycca-news.org. Put LIBRARIES in the subject line.
President Obama said: "Don't underestimate the power for people to pull together and to accomplish amazing things."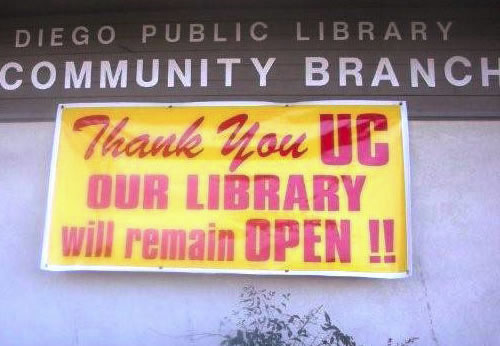 The University City Older Adult Center
A program of Jewish Family Service, offers a safe place for older adults where they can socialize, learn and grow. The Center offers two different programs for older adults in the La Jolla, University City, Clairemont and surrounding communities. Both programs meet at Congregation Beth Israel located at 9001 Towne Center Drive.

New class offered at UCOAC
Posit Science Brain Fitness is a state-of-the-art computer program designed by 50 brain scientists to improve cognitive and visual abilities and daily living skills. Evidence shows that confidence, sharpness, focus, reaction times, driving skills and health-related quality of life are improved as a result of completing this program. The program is self-paced and adjusts to fit each person's capability level, so everyone can benefit from the training. Absolutely no computer experience is required; in fact, many participants had no prior experience with computers.
Classes will be offered. Classes are scheduled for Tuesdays, Wednesdays and Thursdays from 10:00am – noon, from February 10 – April 2. The cost is $204, which includes program materials. It is important that interested participants are able to commit to all classes during the 8-week program and are able to attend a Demo Day to register. For more information, please call 858-550-5998.

The UCOAC thanks the generous support of the Gary and Mary West Foundation for making this program possible.
Pack 11 fall service project
For their fall service project, the 62 Cub Scouts of Pack 11 collected blankets to benefit the homeless supported by the Alpha Project's downtown cold weather shelter which opened November 24th.   The pack, chartered by the First Baptist Church of San Diego on Governor Drive, held collection events at Curie and Spreckels elementary schools and collected 134 blankets which were delivered to the downtown shelter just before the first winter storm rolled through San Diego.   The generosity of University City residents will bring warmth to many this winter season.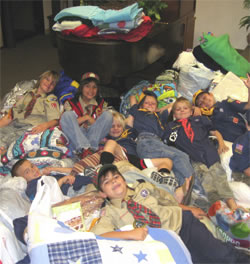 UC Celebration meeting
Important UC Celebration meeting to determine whether or not University City will hold our annual Fourth of July festival. Please meet at Standley Park Recreation Center at 7:00 p.m. tonight, Thursday, February 12.
Those of you at the wrap up meeting last July and the July recreation council meeting recall than the chairman announced that he would step down from the chairmanship but without an immediate successor, the fate our annual celebration was at stake. He has offered to stay on as an advisor as did many of my committee.
We are hopeful that the notice in UCCA's February newsletter will bring new leadership willing to carry on this 20 year tradition.
UCHS Athletic Field Update
Since our meeting in September, a lot has transpired. With the passing of Prop S, the entirety of Phase I, which includes the football stadium, track and lights will be fully funded.
That means we will not have an obligation to share this facility with the City and therefore, we will not have to execute a Joint Use Agreement. The timeline, as it stands now, is for a completion date sometime in 2011. Mike Price will e working with the district to try and get our project moved up a bit.
What does all this mean? The good news is that by not having to share this part of the facility with the City, the impact of the lights should be minimal because the hours of operation will not be extended. The other obvious good news is, that we won't have to raise the 2.1 to 2.5 million dollars that phase I would cost. UCHS would still like to enhance the rest of the athletic facilities as well, so there will be fundraising down the road a bit for phases II and III. I want to thank all of you for your support and efforts to date. Those of you that want to continue to stay involved, please let me know. There is still a lot of work ahead, and our Foundation Board needs parent volunteers who are going to be around for awhile.
Computers for Spreckels
Spreckels Bilingual Magnet is on a quest to upgrade their 12 years-old school's lab computers and computers in the classrooms to new state-of-the-art equipment so that our Spreckels Wildcats have the very best learning resources available!
We'd love to get support from the University City Community to help us accomplish our goals! If you have any expertise in this area or have time to help us with funding research, we want to hear from you!
Please, see the flyer and contact Shabana VIGNISSON to see what you can do to help at shabana@kidzui.com.
If you wish to donate only, here are the instructions for specifying the "Spreckels Computer Lab" as the program to receive the funds donated on the EdUCate! website: 1. Go to the EdUCate! website at www.uc-educate.org. 2. Click on the "Support UC Schools Donate Now" button. 3. At the Donate Now page, click on "Directed Donations". 4. At the Direct Donations Page, for schools, select "Spreckels" for Teacher/Program, enter "Computer Lab"    for quantity, enter amount (e.g. 50 for $50 donation). 5. Click the "Add One to Basket". 6. After clicking the "Add One to Basket", the Giving Page will display with a summary of the donation and follow the directions to complete. After the donation is completed, an email will be sent to the donor to confirm receipt of the donation.
Amazon parrot rescued
A beautiful Amazon parrot has been rescued in West U.C. It is obviously somebody's beloved pet. It is safe in a cage. We are trying to find the owner. The contact number is 858-220-1425.
FREE Exercise Class
FREE Exercise Class at Standley Park & Rec. Center, 3585 Governor Dr., 9-11am on Fridays.  There will be a break for the holidays between Dec. 26 & Jan 2.
The class incorporates Aerobic, Walking, Toning Muscles, Increasing Bone Density, Weight Lifting & Mat work optional. The class is offered by the San Diego Community College Emeritus Program.
For questions, contact (619) 221 6973.  Jo Anne Alcala, M. A. from UCLA, is the instructor.
We did it!
1070 signatures on petitions delivered to Mayor and City Council, two successful rallies in front of library, hundreds of phone calls and emails to City Hall.
Many thanks to Nancy Carr, a Curie mom, who staged the November 18th rally in front of the U.C. library on Governor Drive. All those kids, parents and seniors showed up at high noon with signs and shouts of "Save our library." Our library was one of the seven set for closing to help with the City Budget. KUSI also showed it on the news that night.
Stop in at the library and say hi and thanks to an incredible staff and head librarian, Sheila Burnett. Thank the wonderful group of Friends of the Library too, as well as the residents who went to bat for our hometown's library.
U.C. Library is OPEN, as are all others.
Thank you, U.C., for joining the march last Tuesday, November 18, to protest the closure of our community library!
The protest march was on KUSI News, Channel 9, last Tuesday, November 18, at 6 pm and 10 pm.
Read more about the protest in San Diego county at http://obrag.org.
U.C.'s beautification project
Anne Bolton, former UCHS principal and active member of the Village Garden Club of La Jolla, has promised 5 more Jacaranda trees for U.C.'s ongoing beautification project.
The trees will be planted in the spring. Speaking of trees, we need volunteers to water the Jacarandas at Park and Ride on Governor near 805 during 2009. If you want to help out, contact Sandy at (858) 453 2387. You can sign up for a month of watering once a week.
Preschool looking for a new space
Die Rasselbande, San Diego's first German Preschool was born six years ago due to the hard work and dedication of two mothers, Heike Paulsen from Germany and Johanna Petosa from Austria.
What started as a mother's exchange program quickly attracted a sizeable number of mothers who either spoke German, or liked the idea of connecting their little ones with a second language early on. The school outgrew its first premises, and eventually found a home in Clairemont, sharing rental space from a Church with the Petite Ecole French School.
Most Rasselbande pre-schoolers live in nearby communities such as University City and enjoy being part of the cultural and language diversity of this community. With a growing waiting list and a lease ending next year the Rasselbande needs to move to a new, larger premises to continue their quality second language immersion program at the preschool level together with other Cultural programs directed at the larger community.
If you have any suggestions for suitable rental space please contact Die Rasselbande either at (858) 272 3832 or at http://www.dierasselbande.com.
Die Rasselbande Preschool, Inc. 3219 Clairmont Mesa Blvd. San Diego, CA 92117 858-272-3832 License # 376700363
Water Polo
"UC H20 Polo U Know!" Fans packed the stands of the Lawrence Family JCC pool Friday evening, November 7th, as the University City High School Boys' Water Polo teams battled Valhalla High School. After UC's Junior Varsity team outscored Valhalla 7-6, it was "Senior Night" for the Varsity team. Varsity players were introduced, with a special shout-out for UCHS seniors David Gray, Jay Harvey, Zac Cooper, Brian Lee, Dylan Spitz and Connor Creagh.
Although the Varsity and Novice teams lost to Valhalla, it was an exciting evening for everyone. In addition to water polo action, the fans enjoyed coffee donated by the Costa Verde Starbucks, gift certificates and discount coupons from "new to UC" Forbidden Yogurt, and discounted smoothies from Jamba Juice on Governor Drive. UC High School's Varsity team went on to a thrilling 9-8 upset over Scripps Ranch High School on November 12th, advancing them to the boys' water polo CIF quarter finals.
U.C. Del Sol Girls Fastpitch Softball
Softball players, managers and coaches, sign-up today with UC Del Sol Girls Fastpitch Softball! Register for the 2009 season at www.ucdelsol.net before December 31, 2008 to receive the "early bird" discount. For information please visit our website at www.ucdelsol.net or contact April Schnaubelt at 858- 279-5161 or aprils_ucdelsol@ earthlink.net. Enjoy the fun, PLAY FASTPITCH!
Flat rate disposal fees at the Miramar Landfill
As of January 1, 2009, there will be an increase in self haul flat rate disposal fees at the Miramar Landfill.
Residents' Fees for General refuse will be $17 for cars and station wagons, $24 for SUVS and mini-vans, and $30 for unmodified pickup trucks. Construction waste fees will be $25 for cars and station wagons, $35 for SUVS and mini-vans while unmodified pickup trucks will pay $43.
For a complete list of all the fees or for more information go to www.sandiego.gov/ environmental-services or call the Miramar Landfill Fee Booth at (858) 492 6100.
Great California Shake Out earthquake drill
Millions of southern Californians participated in the Great California Shake Out earthquake drill on November 13th.
Do you have a Family Disaster Plan? Do you have an emergency kit? The County has an excellent website on disaster preparedness. For earthquake information, go to www.co.san-diego.ca.us/oes/disaster_preparedness/ oes_jl_earthquakes.html.
You can view and print brochures including Preparing Your Family for an Earthquake and How to Secure Your Furniture. These brochures are also available in print at the San Diego County Office of Emergency Services (OES). Call (858) 565 3490 if you wish to obtain a hard copy. Test your earthquake preparedness knowledge; play the Beat the Quake game at www.dropcoverholdon. org/beatthequake/game.
Democracy in Action
Election Day on November 4th saw a large turnout in University City. Thanks to Stefana Brintzenhoff, Kelly Nicholas, a senior at U.C. High School, Mary Croft, and Sandra Day for serving the voters at the polls.
Local Children Fill UC with Beautiful Music University City residents were treated to wonderful classical piano performances by the students of Anna Yanovsky on November 16 at her University City concert hall.
UC students Gregory Horvath, Kevin and Paulo Cruz, Alex and Kira Wu, Ethan and Dahlia Grizzard, and James MacCann performed pieces by Beethoven, Rachmaninov, Chopin, Bach and Tchaikovsky. Due their extensive training and tireless practice, these students play at a higher level than most children in their age group. They play complex and lengthy pieces not usually heard from young pianists.
University City has a large and dedicated base of music students and an unlimited amount of admirers. If you know any of these students, make a point to congratulate them on their marvelous performances.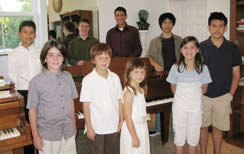 Stage 1 water emergency
Mayor Sanders declared a Stage 1 water emergency in July. For information and suggestions about water conservation, check the City's website, www.sandiego.gov/water/conservation/index.shtml. You'll also find links to rebate programs tied to water conservation.
Boy Scout Troop 506 accepting new members
Boy Scout Troop 506 invites boys, ages 11 through 16, to join their scouting adventures. The Troop meets at 6:30 p.m. each Monday evening at the La Jolla Methodist Church, 6063 La Jolla Blvd. Prior participation in Cub Scouts is not required.
A guest camp will be held in November for prospective troop members and their parents to experience the Boy Scouts. The troop also invites interested youth and their families to an Open House at 6:30 pm on Monday, Nov. 17 to learn more about the troop's activities. Yearly dues cost about $72.
For more information about Troop 506, call Mark Pulliam at (858) 483-3642.
UC Del Sol Girls Fastpitch Softball
Softball players, managers and coaches, sign-up today with UC Del Sol Girls Fastpitch Softball! Register for the 2009 season at www.ucdelsol.net before December 31, 2008 to receive the "early bird" discount.
UC Del Sol, a volunteer run, non-profit organization, is an ASA affiliated fastpitch softball league. The mission of UC Del Sol is to provide a positive and safe environment that allows girls to participate in friendly competition, to develop athletic skills and to build self-esteem while learning to play the game of fastpitch softball.
Girls from all San Diego communities are welcome to register with UC Del Sol. All skill levels welcome in players and coaches. Also, please consider sponsoring our league with a Tax Deductible contribution to UC Del Sol. Support your community and together we can make a difference in our youth. For information please visit our website at www.ucdelsol. net or contact April Schnaubelt at 858-279-5161 or aprils_ucdelsol@ earthlink.net. Enjoy the fun, PLAY FASTPITCH!!
University City community library
Our Community Library on Governor Drive and the North UC Library provide excellent resources. You can also access a number of library services on line. If you would like to: apply for a library card, attend a workshop or class, become a volunteer, find a book sale, join a book club, make a donation or a suggestion, reserve a meeting room or see the calendar of events, just go to www.sandiego. gov/public-library and click on the appropriate links.
University Community Planning Group (UCPG)
The University Community Planning Group (UCPG) meets the second Tuesday of the month at Forum Hall in UTC.
The Vice Chair announced there will be no UCPG meeting in November because the meeting date falls on the Veteran's Day holiday. At the December meeting, the UCPG board plans to fill two vacancies--the Business 1 representative and Residential 2 representative. Per the by-laws, the person filling the vacancy will serve the remainder of the term of the person they replace.
For membership and representation purposes, the community plan area is divided into three districts, and there are three business and three residential representatives from each of the three districts on the executive committee. South University City comprises District 1.
Enrichment at Spreckels
Spreckels Bilingual Magnet is setting up a variety of after-school enrichment programs and would love to utilize the skills and talents of our University City  community neighbors - that means you! - as much as possible.
If you are a master chess player, singing dynamo or tap dancing fool (or have any other expertise in the arts or sports) and... would like to share your skills with our students, please, let us know!
Write to Staci TORGESON at staci@oeexpress.com or call her at (858) 458 4286 if you can help teach or just provide additional adult supervision at the school on Wednesday afternoons.
Food and Nutrition classes
Marilyn Biggica, SD Community College instructor at Standley Park, invites dropins to her free Food and Nutrition classes, Monday, Tuesdays, and Wednesdays at 9:30 a.m, mbiggica@cox.net for questions.
Coldwell Banker 3rd Annual Shred Fest
Coldwell Banker had their 3rd Annual Shred Fest on October 17th at the Vons shopping center and it was a success!
Offering free document shredding to UC residents, the turn out was tremendous. The event was extended by 1 hour to attempt to accommodate everyone with their bags and boxes full of everything, from old tax returns to bank statements. At the end of the night there were 46 large bags filled, which totaled 2,300 pounds of shredded paper. Taking it a step further, the shredding company now recycles the paper! Go Green!
New U.C. gateway signs
The new University City gateway sign is located on Genesee south of Scripps Memorial Hospital entrance!
Hopefully, South University City will be able to have the same signs on Genesee and Regents, north of the 52 exits, and also at 805 on the east end of Governor. Contact Scott Peters' office to see how U.C. can do this: JMONeill@sandiego.gov.
This November, councilman Scott Peters' office helped with University City Community Association the UCCA beautification goals by placing a second gateway sign in South U.C. on the Genesee median near April Court.
Check them out and thank the outgoing 1st District councilman: scottpeters@sandiego.gov.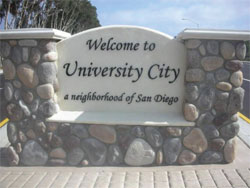 Recent car break-ins
U.C. is not immune to crime and vandalism with recent car break-ins on Willard, Ohm, and Milliken. Catalytic converters are being cut out from the bottom of cars, sold as scrap metal, as reported from a victim of this in Governor Park. It cost him $3100 to replace it. Thinking of starting a NeighborhoodWatch? Email Officer Charlie Wetzel at rwetzel@pd.sandi.gov.
13 the Musical
Kyle Crews, a 16 year old tenth grader from UC High School was one of 13 teens cast in an original musical comedy, "13 the Musical". "13", created by Jason Robert Brown, a Tony awardwinning lyricist-composer is making its east coast premier in regional theatre at Goodspeed Norma Terris Theatre in Chester, Connecticut from May 9 through June 8. It is headed for Broadway in early fall, scheduled to open at the Bernard Jacobs Theatre.
Recycling bins debut at Standley Park
U.C. residents now have the opportunity to "recycle on the go" while visiting Standley Park and the surrounding baseball and softball fields.  The 4 new recycling receptacles were purchased with a grant from Board of Supervisor, Ron Roberts.
Last summer, U.C. resident, Tama Becker-Varano, submitted a recycling proposal to Mr. Roberts and immediately received his support.  With approval from the Standley Recreation Council and maintenance support from Sarah Anderson and the Standley Recreation Department staff, the bins offer U.C. park-goers the convenience of properly disposing of their recyclable items.  The receptacles will be emptied weekly into the larger recycling dumpsters located in the Swanson Pool parking lot. The earnings of those dumpsters are invested back into the continued recycling efforts at the park.
All park patrons are encouraged to take advantage of the recycling bins.  Please assist park staff by avoiding cross contamination of non-recyclable items (trash) in the recycling bins.
Go Green, U.C.!
Sierra and Marina Varano using one of the recycling bins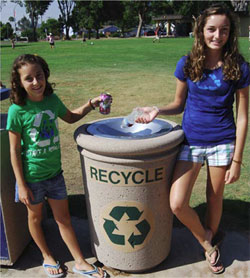 Veteran's Cemetery at Miramar
At the last UCPG meeting, a representative from Miramar reported that construction of the Veteran's Cemetery at Miramar has been delayed 18 months. The first burials are expected to take place in August 2010, and the first phase should be completed in 2012.
EdUCate!
EdUCate!, www.uc-educate.org, is excited about the start of the 2008-09 school year. President Roj Fay and her team have visited all five campuses to welcome staff, parents, and students back to campus, and to spread the word that EdUCate! is here to help.
Doyle Elementary and Standley Middle School welcome new principals this year: Kimberly Moore and Heidi Eastcott As you drive through the neighborhood, please realize that Doyle Elementary, Standley Middle School and UCHS have revised bell times this year: Doyle is now in session from 7:40 A.M. – 2:00 P.M., Standley from 9:05 A.M. – 3:50 P.M. daily, and UCHS from 7:24 A.M. – 2:18 P.M. Most of the teachers who were pink-slipped in spring found positions somewhere in the district, but there are definite changes on our campuses that reflect a tight economy.
With the State's current budget impasse, it is hard to overstate the importance of private donations in maintaining UC's public schools, and in improving identified "achievement gaps." The school district simply cannot provide everything it takes to keep teachers and students enthusiastic about their hard work. Private money is no longer only about providing fancy luxuries in rich communities; it is about having a decent, new computer in your child's classroom. One third of the 180 schools in the SD Unified school district have a supporting foundation. Statewide, educational foundations contribute $100 million dollars to 500 schools and districts. Some public schools in San Diego collect $750 per student per year in supplemental funds from their parent communities!
With your help EdUCate! will help UC schools keep pace with technology by providing a laptop computer for each of our 258 teachers over the next three years. The first phase of laptop purchasing will complete the document camera/ digital projector "presentation stations" that we have supplied during the last two years. In years 2 and we aim to provide a new computer for each classroom, to help with every curriculum from phonics to physics.
Why computers? According to the MacArthur Foundation, on a typical day, more than half of American teenagers use a computer and more than 40 percent play a video game. In addition, 83 percent of young people play video games regularly, and nearly three-quarters use instant messaging. Our children are digital citizens, and the classroom needs to be stimulating in order to keep them in school.
Please look for the Dollar A Day donation envelopes coming home from your K-12 public school student, or donate online at www. uc-educate.org. This program is EdUCate's main focus for fall, and earns net proceeds comparable to those of our signature restaurant tasting event and auction, Taste of the Triangle.
On April 3, 2009 EdUCate! will hold the 15th Annual Taste of the Triangle at the Hilton La Jolla Torrey Pines. Another Friday night party for those who believe in public education and in neighborhood families coming together. Watch for details on the website as the date draws near. Again, thank you to all who have donated even one dollar or one hour to our fine students and teachers!
Swanson Pool
Lots of things are happening at Swanson Pool this summer and into the fall and winter!
First, the bad news... The pool is again scheduled to be closed for approximately 3 and one half months this fall or winter as a result of the City budget problems. Many in our community appealed to our City leadership to reconsider this approach to balancing the budget but it appears that the closure is going to occur at Swanson as well as at most other City pools. In addition there remains a possibility of staffing cuts at the pool that will reduce the availability of some of the programs offered. Stay tuned as these issues develop and let our City leaders know how you are impacted. This might lead them to think twice before closing the pool and cutting staff in the future.
Another potential disruption to pool operations will be some improvements to make Swanson compliant with the Americans with Disabilities Act (ADA). The ADA improvements will provide better access to the pool facilities and the outside restrooms in the pool building. The work will begin this summer. The Standley Park Recreation Council has asked Council President Scott Peters, who helped secure the funding for this project, to minimize the disruption to Swanson and Standley Park facilities during the project, particularly during our busy summer.
Now for the good news! The pool received a face lift this spring and is open and thriving this summer. Swim lessons are offered for all levels and ages and provide a great opportunity to get more comfortable in the water. Swimming is an excellent way to exercise for all age groups. The kids love it and for the adults it is a great way to work off those hot dogs you eat during your summer barbecues. The staff at the pool are outstanding and led by pool manager Dominic Mangiapane. In 2007 the staff finished in 2nd place for safety drills among all City pools. They missed first place by only 1 point! Also UC local Mark Presley who's on the staff earned the Water Fitness instructor of the year honor for 2007 (that's out of all 13 pools). Congratulations to Mark and Dominic.
So get out there and get wet! Swanson Pool is signing up kids and adults for swimming lessons. Call the pool at (858)552-1653.
Use our pool and show the City what a valuable resource it is for us.
Thanks to Dr. Mark SAWYER
By-laws for the Community Planning Groups
The City has standardized and approved by-laws for the Community Planning Groups. The University Community Planning Group (UCPG) by-laws were approved in July.
Among the changes: Memberships will no longer expire; however, members must keep their address current. Persons who wish to run for the board must attend one UCPG meeting. The Membership Secretary will have an attendance sheet at each meeting. It will be up to the members to sign the attendance sheet to prove fulfillment of the attendance requirement.
EdUCate!
We are asking you to donate to our Dollar-a-Day campaign before January 1, 2009 because we have a matching grant for the first $10,000 in donations. If you don't donate, we don't get that extra $10,000.
With a successful 2008-09 school year, EdUCate! hopes to pass the $1,000,000 milestone in donations to our fine teachers.
The Dollar-a-Day program has generated over $77,000 in donations in its two years of existence. This amount was raised, even though fewer than 10% of students' families participated. If all UC student families participate in Dollar-a-Day, we can put up to $500,000 into our schools each year!
Dollar-a-Day contributions have equipped more than 80 UC classrooms with state-of-the-art document cameras and digital projectors. 2008-09 Dollar-a-Day contributions will provide laptop computers to teachers at all five schools. The laptops will help teachers to use the document cameras and digital projectors to their full potential.
U.C. new council representative
U.C. has a new council representative. At the July UCPG meeting, Madeleine Baudoin, Council District 1 representative to University City announced she would be leaving Scott Peters' office at the end of July to take another position at a biotech company in San Diego. Madeleine devoted a lot of time and energy to her position as she interfaced with residents, groups and organizations throughout University City regarding their many questions, requests and needs.
We extend our thanks and best wishes to Madeleine and welcome Jacob O'Neill our new council representative. Jacob also oversees all Constituent Services for Council District 1 and is the office liaison for military matters. To learn more about Jacob, visit the Council District 1 website: www.sandiego.gov/citycouncil/cd1/staff/oneill.shtml.
Jacob (Jake) O'Neill has taken Madeleine Baudoin's position as liaison with University City for Scott Peters. Jake met with local resident Brian Mangan to discuss issues concerning University City, including gateway signs, beautification, and planting of the medians, as well as a Maintenance Assessment District. Brian, a seven year resident, is a new volunteer with University City Community Association.
If you wish to contact Jake at Council President Peters' office, his email is jmoneill@sandiego.gov.
Big thank you from the Yandel Family
The Yandel Family, Larry, Dawn, Ryan, Matthew and Kaitlin, would like to extend a BIG THANK YOU to the U.C. community for the wonderful outpouring of love and support to our family during this difficult time.
"Our U.C. family has been very giving of themselves to our family. We are very thankful and appreciative to all.", they said.
Westfield's UTC expansion
On July 29th, the City Council approved the Westfield's UTC expansion 7-1, with Council Member Donna Frye casting the dissenting vote.
Westfield recently announced plans to renovate and expand the Mission Valley mall as well.
Practical guide to polycystic ovary syndrome
Chris Hearn, a U.C. resident and UCHS graduate, has co-written with Dr. Shahab Minassian, "Pocket P Cos," a quick and practical guide to polycystic ovary syndrome. Check out his website at www.pocketpcos.com.
New T-mobile wireless communications facility
A new T-mobile wireless communications facility is planned for Stresemann and Lamas in University City with below ground equipment. Still in the review process stage; antennae must be above ground. Alex Hempton will be glad to answer your questions. AHempton@sandiego.gov…
Citizens' Review Board
Sandy Arkin will be soon be president of Citizens' Review Board on Police Practices. Sandy has been the consummate volunteer: past chair of EDUCATE! and recently honored as one of the founders of the new, popular Children's Museum in San Diego.
Educate! new program
EdUCate is planning to roll out a new program in the fall 2008 to help grant teacher wishes. Teachers will load their needs onto the Educate! web-site and people will be able to grant their wish by making a donation.
Check out the details in the September 2008 UCCA publication.
New newsletter editor
The June issue welcomes our new editor, Kay GOODFELLOW. Kay replaces Glenn DaBREO, who stepped in a year ago to keep the newsletter at our doorsteps. Thank you, Glenn, for all your good work!
Kay, a University City resident for 27 years, has editorial experience with a local sports club newsletter and shares the community's desire to have a central communication through our newsletter. Kay joins Terri DAY, advertising contact for six years, to bring our community a publication we deserve.
We encourage the public to submit information pertinent to University City in the Contact us page or to editor@ucca-news.org. Additionally, we are asking advertisers or sponsors to contact Terri in the Contact us page or at advertising@ucca-news.org.
First anniversary online

We are celebrating our first anniversary online with a total make-over of our Internet site www.ucca-news.org. Read more about this site.
Please, rate this site to let us know how you feel about and... report any bugs!
Renovating and expanding UTC
Westfield Corp. recently unveiled plans for renovating and expanding UTC. These plans propose adding 750,000 square feet of new retail, 250 multi-family dwelling units, and an enlarged transit center. Per the Draft EIR (Environmental Impact Report) recently released, alternatives could include a reduction in the new retail and the addition of up to 725 dwelling units, up to 250 hotel rooms, and/or up to 35,000 square feet of office space.
At the May 13th UCPG meeting, Westfield presented their plans for renovating and expanding UTC to add 750,000 sq. feet of retail and 250 residential units and requested approval of the community plan amendment it would require. After a lengthy question and comment period by the board, members of the audience which included supporters and opponents, presented their questions and comments. The UCPG board voted to deny approval. Community planning groups are advisory only.
Westfield is scheduled to go to the City Council July 29th, 2008, for approval. Westfield UTC hopes to get City Council approval for a 750,000 square foot expansion of retail and highrise residential towers at the cost of $900-million. While the San Diego Planning Group downtown has supported the idea in a 5-1 vote recently, the U.C. Planning Group here opposed it 14-2 with one abstention, the Westfield rep. Locals point to "the elephant in living room" overlooked by the Westfield group: TRAFFIC amounting to almost 18,000 trips more. Genesee and Nobel may look like 163 and Friars Road pouring into Fashion Valley. In spite of going "green," and promising a transit center, locals know few take the bus, but we all take the car. Will Westfield open the floodgates to new development if the community plan gets amended to allow this monster project.
What do you think of the UTC renovating and expanding? Tell the UCCA editor at editor@ucca-news.org or use the form in the Contact us page.
University City High School athletic fields renovation
After ten years in the making (and suffering) the San Diego Unified School District and University City High School and Foundation have reached an agreement to renovate the upper athletic fields at the high school this summer. The renovation will include the installation of new water lines from the Robbins Street entrance gate to the lower athletic fields. In addition, a pump will be installed to boost the water pressure to provide sufficient pressure and flow to adequately water the upper fields (soccer, softball, field hockey, and baseball). Fields are going to be re-seeded and leveled. Sprinkler heads will be repaired or replaced and irrigation lines repaired, replaced or reinforced as necessary.
Longs Drugstore
Madeleine Baudoin, U.C. representative from Councilman Peters' office, attended the February UCCA board meeting and brought relevant news. Longs Drugstore would like to put a 24-hour store in the Marketplace/ Henry's Shopping Center. Picture a Longs fronting Governor Drive in place of the post office, Postal Annex, and jewelry store. Longs would like to have a drive-through pharmacy window. Citizen concerns involve enough parking spaces, the 24-hour schedule and lights impacting locals on Stadium north of Governor. On the other hand, some locals like the idea of having a drugstore available 24/7. The post office would be relocated to another empty space in the shopping center, as would Postal Annex, and the jewelry store. If you have questions or comment about a project in its infancy, watch for news in next month's UCCA newsletter or write us the Contact us page.
Genesee, Regents and Governor repaved
Genesee Avenue, Regents Road and Governor Drive will be repaved sometime in 2008. We all have noticed dodged potholes on these arteries in and out of University City and welcome this job.