University City pool...
3585 Governor Dr.
SAN DIEGO
CA 92122
(858) 552 1653
Please, plan on swimming or taking swimming lessons. Swanson pool needs us all!
Check for hours of operation, general information and aquatic programs (water polo, water fitness, recreational swim, children and adult swimming lessons, lap swim, admission fees, etc.) up to date or register for an e-mail notification of pool closures, schedule changes and special events at http://www.sandiego.gov/park-and-recreation/aquatics/swanson.shtml (check out their seaonal brochure on the left hand side of the page).
This year, the pool will be closed from December, 22nd, to March, 29th, including.
Swanson Pool popular vote
Please, let us know if you think Swanson pool should stay open year round rather than only 9 months a year? Use the form here below to contact us or send an e-mail to pool@ucca-news.org.
To resume browsing the UCCA site after after you have voted or viewed the stats, please, hit the Go back one page button (the left arrow).
Thank you for voting.
Swanson pool Renovation project
The pool has got a $220 000 grant to become ADA (American Disability Act) compliant. The remodeling is scheduled during the annual closure of the pool this Winter.
Swanson pool Upgrading committee
Join the Swanson pool Upgrading committee...
Volunteer or donate
Ongoing opportunities are available at recreation centers, pools and regional parks throughout the City, as well as with senior and therapeutic recreation programs. If you would like to volunteer, please see or call staff for more information, or visit http://www.sandiego.gov/park-and-recreation/general-info/volunteer.shtml or contact the Volunteer Office at (619) 533 4017.
By donating to our park system, you can help the Park and Recreation Department to enrich the lives of others through quality parks and programs. Your gift will help ensure that we meet the needs of the community, including people of all ages, abilities and income levels through recreation, natural open space parks, neighborhood parks, and aquatics programs. For more information on how you can become a donor to your favorite park, pool or recreation program, please, call David MONROE, Deputy Director CPII Division, at (619) 525 8235.
Swanson pool recycling
For your conveniance, there are 3 large recycling dumpsters at the parking lot of Swanson pool. The earnings of those dumpsters are invested back into the continued recycling efforts at the park.
Go Green, U.C.!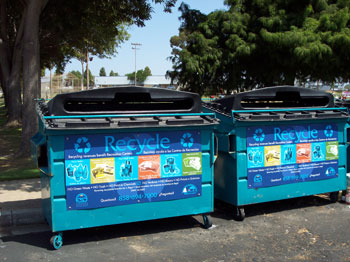 Some history...
C.Edward Swanson Memorial Pool was dedicated in 1975 in honnor of C. edward SWANSON for his vision, leadership and community devotion in development of Standley park.