Archives...
Archives for past community news and events.
Check out the calender here below
for all past community news or events!
To view our calendar, hit the View my Calendar button.
To add or update your own event online, hit the View my Calendar button, then click on the date of your event.
To resume browsing the UCCA site after after you have viewed or edited the calendar, please, hit the link Return to home page in the upper right of the calendar or the Go back one page button (the left arrow) of your browser.
The University City Community Association (UCCA) provides a way for those who wish to give a helping hand to the family who lost their home in the F-18 crash and the family whose damaged home had to be vacated. Gift cards (Target, Macy's, Sears or WalMart gift cards of any denomination) will be given to the Wu and Johnson families. Email Carole Pietras at caroleucca@sbcglobal.net if you have questions or know of other families directly affected by the crash who need assistance. The cards may be sent to UCCA – Families, 3368 Governor Dr., #121, San Diego, CA 92122. No cash or checks, please.

A memorial fund has been established for the family of the victims.  More information can be found at http://alcsd.org/news.htm.
People can also donate to the Disaster Relief Fund of the American Red Cross.  This fund was used to pay for the Red Cross's relief effort for this incident.  More info can be found here: http://www.redcross.org/preparedness/redalert.
For the latest information regarding the crash visit http://www.sandiego.gov/citycouncil/cd1.
National Engineers Week 2009
With infrastructure in crisis, engineers are needed now more than ever. That need is expected to grow well into the future. Where will those engineers come from?
The American Society of Civil Engineers Younger Member Forum (ASCE-YMF) is celebrating National Engineers Week 2009 (February 15-21) by hosting its annual Engineering Day at the Mall event. The goal of National Engineers Week is to raise public understanding and appreciation of engineers' contribution to society, as well as increasing the interest in engineering and technology careers among young students.
At Engineering Day at the Mall, volunteers from ASCE YMF and local colleges lead fun activities with children, including making a water filter, wind farm, and aluminum foil boats. Volunteers from the student sections of ASCE at UCSD and SDSU also come out to show off their projects, including their steel bridge. This year, representatives from local engineering companies and professional societies will be at the event to speak with high school and college-age students about careers in engineering.
Engineering Day at the Mall will be held at Grossmont Center Mall by the fountain in front of Macys on February 21, 2009 from 10 am – 3 pm. From elementary school students through college students and adults, we hope to see you there, celebrating National Engineers Week 2009!
Contact Jennifer BARRETT at CH2M HILL, (619) 687 0110, Jennifer.barrett@ch2m.com, for more information.

A future engineer with his straw bridge at
Engineering Day at the Mall 2008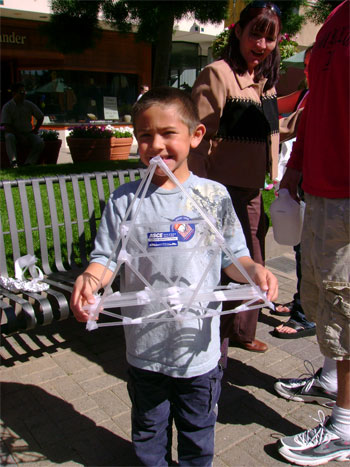 University City Cub Scout Pack 11 celebrates 79 years of Scouting

On Monday, February 23, UC's only Cub Scout Pack celebrates 79 years of Cub Scouting with its annual Blue & Gold banquet.
The Pack, sponsored by First Baptist Church of San Diego on Governor Dr., anticipates over 200 Cub Scouts and their family members attending the banquet.
This year, the banquet is also recognizing 13 local Cub Scouts who have earned the highest award in Cub Scouting, the Arrow of Light.  The boys are Jake Gunberg, Patrick Miller, Jacob Muniz, John Nower, Sean Quezada, Nathaniel Pick, Kevin Pickering, Spencer Pilkington, Grant Ruthenberg, Allen Siegler, Adam Timms, Garrett Woodworth, and Billy Wright.  These boys were led by den leaders Joe Quezada and Heidi Woodworth and Cubmasters Mark Woodworth and Daniel Pick for four and a half years on the trail of Cub Scouting.
The Pack will also install its new Cubmaster Robert Feinstein at the banquet.
Cubmaster Daniel Pick
F/A-18 Hornet crash

Monday, December 8th, a disabled fighter jet crashed and exploded in flames moments after the pilot safely ejected, authorities reported, killing three people on the ground in a University City-area neighborhood.
See the News 8 video on YouTube!
See the video by Mike LAMP, a local resident!


The F/A-18 Hornet plunged at the corner of Cather Avenue and Huggins Street, about a mile west of Marine Corps Air Station Miramar, just before noon, according to San Diego police and the Federal Aviation Administration.

The pilot, who was on a training flight and heading toward the military base when the accident occurred, parachuted into an open area near University City High School, landing in a tree in Rose canyon. Medics took him to Balboa Naval Hospital for evaluation.

The crash destroyed one home and extensively damaged another, according to the San Diego Fire-Rescue Department.

Emergency crews found the four dead people, whose identities were not immediately known, in the scorched rubble of one of the gutted houses and said two other residents remained unaccounted for in the mid-afternoon.

It took firefighters about a half-hour to get the blaze under control.

Military officials said some kind of equipment malfunction forced the pilot to eject.

Several witnesses reported hearing several loud popping sounds -- apparently the ejection mechanisms of the pilot's seat and the unoccupied second seat -- just before the jet went down.

Police shut down several streets in the area as crews doused the blaze and investigators began cataloguing evidence at the crash scene.
Fire Capt. Randy Strick said crews responding to the three-alarm fire arrived to see "an aircraft engine in the middle of the street."

A large, busy area of the city was blocked off to traffic, creating a long backup on Interstate 805.
Students at nearby University City High School were kept locked in classrooms, but there was no damage to the campus and no one was injured, said Barbara Prince, a school secretary.
There was little sign of the plane in the smoky ruins, but a piece of cockpit sat on the roof of one home. A parachute lay in a canyon below the neighborhood.
The middle-class neighborhood of half-million-dollar homes smelled like a brush fire. Ambulances, fire trucks and police cars choked the streets.
A Navy bomb disposal truck was at the site, and Marines were talking with police. Authorities told observers to leave because the smoke was toxic.
Steve Diamond, a former military flier who witnessed the crash, told KUSI he went to the spot where he saw the pilot parachute to the ground to see if the serviceman needed any assistance. "And turns out that after he extracted himself from the tree, he was OK," Diamond said. "He was in good shape." The pilot was flying quite low in the moments before he ejected, Diamond said. "Other than that, there was no overt indication of any kind of catastrophic failure," he added.

Cather Avenue resident Nora Bhes described the alarming noises caused by the plane crash. "It sounded like a thunderstorm with a real screech at the end of it," she said. "Then I heard loud pops like gunfire. And that's what I thought it was."

Ilene Schroers, who lives on Huggins Street, about a block from the crash site, initially thought the explosive sound of the jet hitting the ground was from a traffic accident. "I thought the noise was a trash truck crashing," she said. "It was such a big noise." Schroers said she then looked out a window, saw neighbors running and called 911.

Steve Krasner, who lives a few blocks away in the earthquake-prone region, said he first thought the shaking generated by the crash was the long-anticipated "Big One." He was in his kitchen when he heard two loud explosions and looked outside, then heard a larger blast. "The house shook; the ground shook. It was like I was frozen in my place," Krasner said. "It was bigger than any earthquake I ever felt," he said. "The flames were billowing overhead."
Ben Dishman, 55, said he heard what sounded like "a loud gunshot" followed by an explosion. "It was quite violent," said Dishman, resting on his couch after back surgery. "I hear the jets from Miramar all the time. I often worry that one of them will hit one of these homes. It was inevitable. I feel very lucky."
The F-18 is a supersonic jet used widely in the Navy and Marine Corps and by the Navy's stunt-flying Blue Angels. An F-18 crashed at Miramar in November 2006, but the pilot ejected safely.
Miramar, well known for its role in the movie "Top Gun," is home to some 10,000 Marines. It was operated by the Navy until 1996.
Associated Press writers Michael R. Blood and Alicia Chang in Los Angeles and Erica Werner in Washington contributed to this report.
Lost doggy
This little guy was found wandering around Regents road across from the entry to the canyon park. No collar, no chip. It felt though like he is a UC dog.
A newspaper ad had been run, posters put up till... Slick's owners came by and picked him up!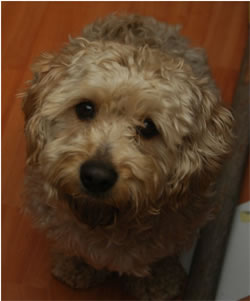 Library closures
Mayor SANDERS and City Council have proposed closing our University City Library on Governer Drive effective January 2, 2009, due to budget concerns.
U.C.  residents and volunteers impacted the vote DIRECTLY, according to members of the City Council who received hundreds of emails and phone calls. 
Many thanks for doing the right thing.  WE DID IT.  Read below about the 6-1 vote with Mr. Hueso MIA, and Mr. Madaffer, the solo no vote.  If you have any energy left, write a short thank you to the City Council.  Petitions have been brought to City Council, Mayor Sanders, and the City Clerk  with 1070 signatures opposing the closure, staff reduction, and hourly reduction.  You might want to thank the IBA, Andrea Tevlin, the budget analyst who advises City Council. 
After a 2 hour hearing, the San Diego City Council voted 6 to 1 to keep the 7 libraries and 10 recreation centers open.  All were slated for closure in Mayor Jerry Sanders' budget cut proposals. Councilmember Tony Young made the original motion to approve the Independent Budget Analyst's recommendations, with Councilmember Scott Peters' second.
Councilmember Madaffer voted against the motion while Councilmember Huesso was absent. After the vote, library activist Anna Daniels thanked the six Councilmembers that voted to keep the public facillities open: Peters, Faulconer, Atkins, Young, Maienschien and Frye.
Now, the Mayor has the opportunity to veto the vote, but with the Council only needing 5 votes to override a Mayoral veto, the veto seems unlikely.  "A bad day for the Mayor," a City Hall insider said.
This is definitely a victory for those who responded against Mayor Sanders' original budget cut proposals announced on November 6th. It is a victory for all those signed petitions, rallied at local branches, and who emailed the Council and Mayor's offices.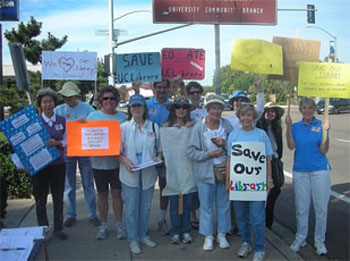 University City residents gathered in front of our second home, U.C. Library on Governor Drive. Shouts of "Save our library" filled the air from 9:30 a.m. until 2:30 p.m. last Saturday, November 22. All ages were represented at this incredible outpouring of support for our library. People driving by honked their horns, and even the police gave us a thumbs up. Throughout the day we probably had about 100 people help out, and we got over 600 signatures on our petitions in five hours (1000 as of today, Monday, November 24).
KUSI, CHANNEL 7, and Union Tribune reporter Helen Gao interviewed lots of folks carrying signs up and down in front of the library.

Our message was clear, thanks to San Diego Foundation flyers: No branch closures, no staff cuts, and no reduction in hours at U.C. or ANY of our sister libraries. We're all in this together. If even one library closes, every library loses.

University City Community Association, Curie and Spreckels Elementary School, Standley Middle School, and U.C.High School parents and kids, Friends of Rose Canyon, U.C. Connection, book clubs, individuals fed up with a feeling of disconnect between communities and their government. EDUCATE!, a fundraising arm that raises big bucks for local schools, and Standley Park Recreation Council ALL came together to make some good American noise. Are you listening City Council?

Hazardous waste recycling event
The City's Environmental Service Department is sponsoring a hazardous waste recycling event December 6th from 9:00 a.m. – 1:00 p.m. at the Metro Water Wastewater Department's Operations Center located at 5571 Topaz Way at the corner of Kearny Villa and Topaz Way. Residents can safely get rid of used oil, oil filters, antifreeze and auto batteries. No business or commercial waste will be accepted. For more information call (858) 694 7000.
UCCA to elect officers at November meeting

The UCCA (University City Community Association) will elect officers at the November 11th General meeting. Sandy Lippe, Mike Lamp and Carole Pietras comprise the Nominating committee. The current officers, President Andy Freeburn, VP Barbara Henshaw, Secretary Mike Lamp and Treasurer Debbie Betzenderfer are willing to serve another year. Nominations shall be taken from the floor. No nominations shall be made unless the proposed candidate has consented to run.
Curie's 30th Annual Holiday Craft fair
Curie's 30th Holiday Craft fair is Saturday, November 1st, 2008!
Mark the date! Marie Curie Elementary PTA will be holding their 30th Annual Holiday Craft Fair on Saturday, November 1, 2008 from 9 a.m. - 3 p.m. Our Holiday Craft Fair is extremely popular with both crafters and shoppers alike. This year we expect 120 booths of handmade art and craft items. In addition, there will be a Kid's Corner with carnival games and entertainment, food booth, bake sale, silent auction baskets and opportunity drawing! It is sure to be a great day for the entire family, so please plan to join them!
Curie Elementary School would like to thank the following contributors of the Curie Craft Fair. Donations received to date: Six Flags Magic Mountain, San Diego Aztecs, San Diego Natural History Museum, Reading Cinemas Town Square, San Diego Air & Space Museum, Birch
Aquarium, Mimi's Café, Stills by Hills, The Village Blocksmith, The Creation Station, Costco, In-N-Out, Walter Andersen Nursery, Mt. Baldy, Giovanni's, Shugrue Photography, Real Mex Restaurant, Islands, K-Co Construction, San Diego Padres, Disneyland.
Marie Curie Elementary School, 4080 Governor Dr., San Diego, 92122. Sponsored by the Marie Curie Elementary School PTA. For crafter information, please, call the Curie Craft Fair Hotline at 858-643-9720 or go to their website www.CuriePTA.org.

Piano Recital
Complimentary seating available for piano recital of the students of Anna Yanovsky, November 16th, at 3 pm in her University City Concert Hall at 6415 Farley Drive.
Call (858) 552 0635 for reservations, auditions or
information on piano instruction.
UCCA Sponsored Political Forum
City Council candidates for First District, Sherri Lightner and Phil Thalheimer, participated in a UCCA sponsored political forum on the same night the presidential contenders, Barack Obama and John McCain, had their last TV debate on October 15th. In spite of competing
with the McCain/Obama debate, around 200 people filled the U.C. High School auditorium by 6:30 p.m. when League of Women Voters moderator, Shirley Larson, signaled the start with the first question, one near and dear to University City residents: "Do you think
the Regents Road bridge should be built?" Neither candidate beat around the bush. Ms. Lightner opposed the bridge and shared her reasons; she didn't see the bridge alleviating traffic on Genesee. Instead of a bridge, she saw need for a fire station in South U.C. Mr.
Thalheimer, who opposed the bridge in 2004 when he ran against Scott Peters, said he was now in favor of the bridge. He referred to his highway drive during the October wild fires when gridlock made it impossible to move.
The audience prepared many questions for the candidates to answer, and answer, they did. All in all, Lightner and Thalheimer were courteous, prepared, and committed to serve the community and the rest of San Diego. You can go to their websites to learn more about them:
sherri@ lightner.net and Bre@PhilThalheimer.com
Halloween Carnival at Standley Park

The Halloween Carnival at Standley Park on Friday, October 24th, was once again lots of good family fun. Thank you all for coming!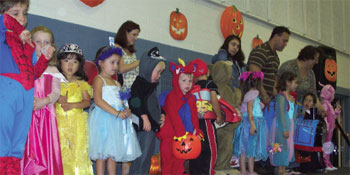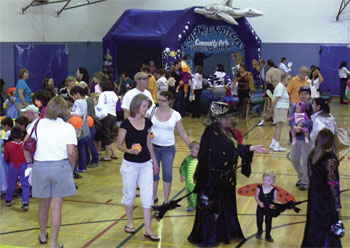 The Princeton Nassoons
The First Baptist Church of San Diego is very pleased to host the Princeton Nassoons, a ten to fifteen-member all-male a cappella singing group composed of Princeton University students. Widely regarded as one of the nation's premier performance ensembles, the Nassoons tour nationally and internationally, have performed at the
White House and the US Open, and have appeared on The Tonight Show with Jay Leno, and Good Morning America.
This outstanding group includes a member of First Baptist, Robert Olson, who is in his second year at Princeton. Robert attended Curie Elementary, Standley Middle School and UC High.
For more information on the Nassoons, visit www.nassoons.com.
The Nassoons will be featured at First Baptist's worship service on Sunday, October 26, 2008, at 10:30 a.m. Everyone is invited! After the service, they will give a full performance in the church social hall where a catered lunch will be served.
Don't miss this fabulous and FREE event happening on the FBCSD campus, located at 5055 Governor Drive, San Diego, CA 92122.
For more information concerning this performance, please emailinfo@fbcsd.comor call (858) 457-4827.
The Nassoons
Good Sam Rummage Sale

October 25th, 9am to 2pm. Items for sale include clothing, kitchen items, furniture, toys, books, videos, etc.
The Rummage Sale will be held at Good Samaritan Episcopal Church in University City. It will be in Roetter Hall, the second building to the right as you enter the parking lot.
Good Samaritan Episcopal Church is located at 4321 Eastgate Mall on the corner of Genesee Avenue and Eastgate Mall, just two blocks north of UTC Westfield Shopping Center. For more information, please contact the church office at (858) 458 1501.
Fundraising auction at UCUC
UCUC will hold a fundraising auction immediately following the 10:30 a.m. service on Sunday, October 19. The public is welcome to attend the service, bid on items and join in for lunch. Child care will be provided. UCUC is located at 2877 Governor Drive. Please call (858) 453-3444 for more information, Christie Ritter, Publicity Chair.
Steps to heal Walk–N-Ride fest for 9/11 heroes
On October 18th, 2008, Unite In Peace presents Steps To Heal Walk–N-Ride Fest for 9/11 Heroes. The event will take place from 10:00 am – 6:00 pm at the San
Diego County Administration Building North Parking Lot at 1600 Pacific Highway.
Highlights of the Program include a motorcycle run and a fundraiser walk along the waterfront led by retired Harbor Police Sergeant, and bagpiper Robbie McKnight. Walkers will carry the World Memorial Flags and San Diego Fire Chief Tracy Jarman will be the keynote speaker in conjunction with October's Fire Awareness month. The Art Miles Mural Project and its 9/11 Memorial mural as well as local artist, Irina Negulescu's rendition of September 11th, 2001, will be displayed.
Check-in for the walk or ride, and to register for the Firehouse Museum tour will begin at 9:00 am. See the flyer for more information.
SD Herpetological Society
Friends of Rose Canyon present Susan Nowicke,
president of SD Herpetological Society. On October
19th, from 4 p.m. to 5:30 p.m. Susan will bring snakes,
lizards, Pacific tree frogs, a western spadefoot toad,
and a gray tarantula to Rose Canyon at the end of
Regents Road off Governor. Bring your kids to this
event and teach them how these creatures live, what
they need to survive, and why they are important to
the canyon. There will be a short walk of 5-10 minutes
into the canyon. Bring a towel to sit on. (No water and
no bathrooms are available.
Voter education opportunity
A representative from the League of Women Voters of San Diego will present an impartial, factual explanation of each of the 12 propositions on the November ballot on 18th October at 10:00 am at Good Samaritan Episcopal Church's Roetter Hall. As a member of a nonpartisan political organization dedicated to citizen education and advocacy, the speaker will explain the propositions and note the pros and cons of each proposition. Come hear an impartial presentation in order to become a more informed voter on Tuesday, November 4. Exercise your voting rights!
Good Samaritan Episcopal Church is located at 4321 Eastgate Mall on the corner of Genesee Avenue and Eastgate Mall, just two blocks north of UTC Westfield Shopping Center. For more information, please contact the church office at (858) 458 1501, Leanne Shawler or leannes@goodsamchurch.org
Important political forum sponsored by the University City Community Association
Circle Wednesday, October 15th, 2008, 6:30 p.m., and join your neighbors to learn more about the 2 candidates running for 1st District City Council positions.
Who will replace Council President Scott Peters? What are the candidates' stands on issues important to you, your family, and your community such as noise pollution, traffic, population growth, parks, athletic fields, pool, safety, transportation,...?
Sherri Lightner and Phil Thalheimer will answer your concerns and questions during the political forum scheduled from 6:30 p.m. until 8:00 p.m. at the University City High School auditorium, 6949 Genesee Ave, SAN DIEGO, CA 92122.
Learn more about each candidate by going to their own websites which are respectively www.sherrilightner.org and www.philthalheimer.com. The format of the evening will be similar to the one UCCA featured at the city attorney political forum in May. Audience members will write out questions that will be collected and grouped according to topic for a moderator to pose to the candidates.
University City residents have seen many changes influenced by City Hall. It is incumbent upon each voter to be informed, and UCCA is happy to make this opportunity available for you. We want to thank the candidates in advance for joining us.
Celebration of the 60's
Some of University City's most talented residents will showcase their musical gifts from 4 to 6 p.m. on Saturday, September 27th, in a 60's music concert benefiting the organ fundof the University City United Church of Christ.
Church members bid over $2,700 for the cause, nominating their top 20 tunes which will be played by members of the church, choir and community.
This festive celebration of the 1960s will be held in the church sanctuary and will include sing-along tunes, 60's attire and refreshments. Among the musicians and singers featured will be Steve and Janet SHIELDS, Pat COX, Heidi WOODWORTH, Brad SPITZ, Dave KEMPTON, Dena and Chris HAUSE, Joyce LANGENBACHER, Jon DERRYBERRY, Jim HIBERT, Lisa STOFEN, choir director Jeanne STUTZER and members of the youth band.
Songs will include "Blowin' in the Wind," "Good Vibrations," "The Lion Sleeps Tonight," "Annie's Song," "Joy to the World" and "Let It Be."
All members of the community are invited to join in the fun and support their friends and neighbors in what promises to be a memorable evening. There is no charge to attend, but donations to the organ fund will be gladly accepted.
For more information, call UCUC at (858) 453-3444.
The church is located at 2877 Governor Drive.
Thanks to Christie Ritter, UCUC Publicity Chair
Tuesday Night Alibi
Tuesday Night Alibi, with U.C.'s Ernie Lippe as baritone, will sing "The Star Spangled Banner" on the USS Midway on September 26th at "the dawn's early light," around 7:30 a.m. for a patriotic exercise. Jill Hammons, another U.C. resident, is director of membership at the USS Midway Museum.
THE BLACK & WHITE CONCERT: a friendship in song
Dominican friars and priests Dominic Dennis DeLay and John Paul Forte bring their unique a capella concert to Our Mother of Confidence Catholic Church in San Diego on Friday, September 19, 6:30 p.m. The church is located at 3131 Governor Dr., San Diego, CA 92122.
Beginning with black and white spirituals, John Paul and Dominic share the music that brought them together and that has brought other black and white Americans together through the centuries.
In addition to their singing ministry, Fr. John Paul directs the Catholic campus ministry at UC San Diego (CatholicUCSD.org). Fr. Dominic has a filmmaking ministry in Los Angeles (MudPuddleFilms.com), where he is also chaplain for the Dominican contemplative nuns at the Monastery of the Angels.
A free will offering will be taken during this special one-hour concert, and music CDs will be available. Their CDs are also available at BlackandWhiteOP.org.
One-year-anniversary of the Nobel Athletic Complex and the North University Community Branch Library
Come celebrate the one-year-anniversary of the Nobel Athletic Complex and the North University Community Branch Library on Saturday, September 20, 2008 from 9:30 a.m. to 3:00 p.m.!
Click on the link to read more about the anniversary.
9/11 flag display
UCCA V.P. Barbara Henshaw designed the 9/11 flag display at Standley. With the help of Darlene Ventimiglia
and Sandy Lippe, the flags went up.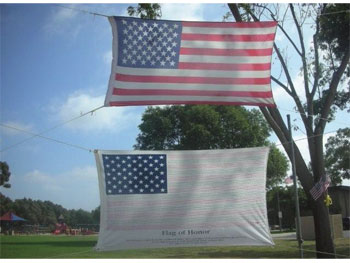 Scrapbooking and collaging
September 6th sees the Good Samaritan Women's Group gathering to learn how to use scrapbooking and collaging to more deeply explore and explain their faith.
The latest resurgence in scrapbooking started in the 80's
with women who wanted to pass along family stories and stories about their faith to their children and grandchildren. The current array of options can be confusing, so we'll be discussing the basics as well as ideas on what to "scrap".

Collaging is an old folk art that is almost always made for private use and pleasure and rarely displayed. Collages are created out of whatever material is at hand -- photographs, stamps, and illustrations, pictures or text from printed media. First a question or theme is chosen; then the images are collected and organized as desired. Once assembled, the artist interprets her collage.

Together, we'll complete two small projects -- one scrapbooking, one collaging, that can be either standalone or be incorporated into a scrapbook page.
Bring along the following: scissors (also a paper trimmer if you have one), black or brown archival pen (e.g., the Zig Writer), adhesive (acidfree - some glue sticks are OK) and a bible. If you're a scrapbooker, feel free to bring along any additional supplies that you think you might
need. Old magazines to cut up are also welcomed.
Please RSVP to Mary Anne Wolfe at 858-546-0617 and sandiegowolfe@aol.com.
Final summer concert
The final summer concert drew a record crowd of 400-500 for Upstream, a reggae band. UCCA, with generous help from Jorgen, Margit, and Karsten Heimburger of Alta Dena, gave out ice cream cups to the children and many adults.
Please, visit the Summer concerts page and... vote for your favorite band!
Spaghetti dinner fundraiser
Brook Feerick and Beth Kurtz invite U.C. folks to a spaghetti dinner fundraiser for the Yandel family, Dawn, Larry, children; Ryan, a UCHS freshman, Matt, a 6th grader at Standley, and one year old Kaitlin. Larry has been diagnosed with stage 4 melanoma. Because of the medical treatments, Larry cannot work.
This is a great U.C. family; both Larry and Dawn have been actively involved in sports programs for kids. Dawn serves on the rec council and as president of Little League.
Circle July 11th, a Friday night for the event that costs $25 for adults and $10 for children at Our Mother of Confidence Church. A raffle will also be held, and you can donate. Make reservations or offer donations or raffle prizes to Brook at FEEBR@aol.com. Her cell phone is 858 337 5578. Mail checks/reservations to 7094 Teasdale, SAN DIEGO 92122.
Do it now. Let's get all of U.C. to rally around the Yandel family…
City attorney political forum
The city attorney political forum on May 14th drew the largest audience of any event UCCA has put on at the high school. All five candidates showed up and each one scored some points with the interested voters who listened politely. The League of Women Voters moderator, Betty
Weinberger, did an excellent job in fairly posing the questions to the candidates: incumbent Mike Aguirre, challengers Judge Jan Goldsmith, lawyer Amy Lepine, Councilman Brian Maienschein, and Council President
Scott Peters. Two screeners, League member, June Greenwald, and UCCA's Hugh Pates, screened the questions written on 3 X5 cards, while Emmett Greenwald was the timer.
For more information on each candidate, you can log on to the candidates websites:
www.mikeaguirreforcityattorney.com, www.jangoldsmithforcityattorney.com, www.lepineforcityattorney.com
www.brianforsandiego.com and
www.petersforsandiego.com.
BioBlitz
The Cridlig children, Nicolas, age 7, Anna, age 12, and Alexandre, age 3, enjoyed visiting a snake at one of the BioBlitz booths held at Rose Canyon Park on May 18th, 2008 (dad is with the Friends of the Rose Canyon), at the event that helps the community learn about the number of plants and animals in a local area. How unique and exciting to see and touch desert snakes, a bluetongued Australian lizard, a boa constrictor and a real scorpion!
The event was sponsored by the Friends of Rose Canyon and Park and Recreation Department. In spite of the heat, there was a good turnout.
Enjoying visiting a snake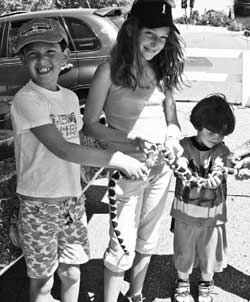 Postal Annex
Jane Reilly, the twenty-year owner of the first Postal
Annex in the world located in the Henry's Marketplace on
Governor Drive, had a farewell celebration on April 24th, 2008 in front of the Postal Annex. The corporate leaders of Postal Annex were in attendance at her party, as were many of her longtime customers. UCCA salutes a true U.C. caring businesswoman, Jane Reilly. Congratulations, Jane!
University City High School graduation
The University City High School Grad Nite Committee
is busy preparing for Grad Nite to be held in the high
school gymnasium on June 16. This creates a lifelong
memorable experience for our 435 graduates.
This huge undertaking of transforming the school gymnasium into a Roman Coliseum is only possible with the effort of many people from the community.
We are a non-profit organization who looks to the
community for donations of money, food, prizes (gift
cards or specialty items) and volunteer time. Volunteers
are needed during the set-up on June 12 and 13 from
5:00-9:00pm and all day Saturday, June 14 from 8:30am
and take-down on Saturday, June 21 from 8:30am. Even
one hour of your time would be gratefully appreciated.
Your kind donations may be mailed to UCHS Grad Nite
at 6949 Genesee Ave, San Diego, CA 92122. For questions, you may call (858) 273 1033 or e-mail sjanderson@sandiego.gov.
EdUCate!
The EdUCate! scholarship recipient was announced at the UC High School Senior Awards Program at UC High School on Thursday, June 5, 2008, at 7PM. Visit EdUCate! website at www.uc-educate.org.
Community clean-up
Almost 100 friends and neighbors participated in this year's University City community clean-up on Saturday, May 10. A stellar showing of more than 30 members of the Church of Jesus Christ and Latter Day Saints, located at the end of Governor Drive, really boosted the cleaning efforts.
Councilman Scott Peters and his team continued their many years of support and addressed the Genesee median, north of Governor Drive. With City resources dwindling, this year's clean up will make a necessary impact.
Debris Box of San Diego donated a 40 foot roll off dumpster which was filled by 1:00. Many were grateful for the household electronics recycling by Recycle San Diego which took unwanted televisions, monitors, computers, and small appliances.
The efforts to sweep the curbs and cut back vegetation from our main portals were a tremendous task and our appreciation to all those who heard the calling.
If you were unable to help, please, consider keeping the street in front of your house cleared of overgrown weeds, leaves, and other debris.
Fire in the canyon

Wednesday, May 30, 2007, there was a small fire in the the canyon behind the Standley park. The prompt response from the Fire Department saved several homes and the park from this fire.
Please, look out for fires.
Thanks to Sarah ANDERSON